MegaSlam 60
€2,024
The MegaSlam 60″ Pro Basketball Goal has all the strength of the 72″ model, but commands less space. Perfect for slamming in smaller gardens, the MegaSlam 60 features a regulation 1/2″ tempered glass backboard. Complete with pro basketball rim upgrade as standard for full 180° breakaway dunk action.
Height Adjustable In-Ground Luxury Basketball Hoop
The MegaSlam 60 brings all the might of the 72″ model in a smaller size for compact game courts. The best height-adjustable outdoor hoop available with the most features. Standing on an 6″ x 6″ rock solid main pole, The dunk-proof MegaSlam 60 is backed by Mega Slam's limited lifetime warranty.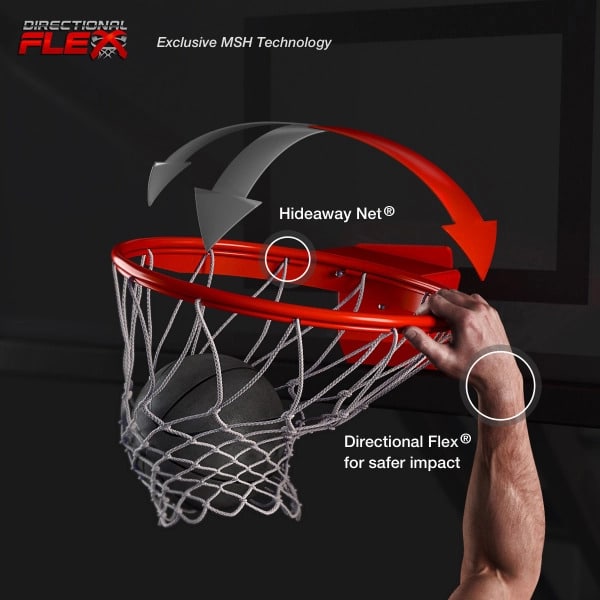 180° Pro Basketball Rim® Upgrade As Standard
The Mega Slam 60's pro basketball rim offers break-away action from a full 180°. Directional Flex® Technology allows for slam dunks in all directions, aiming to reduce impact stress from slamming. The clever recessed Hideaway Net® attachment is designed to protect hands when jamming. (Patent pending.)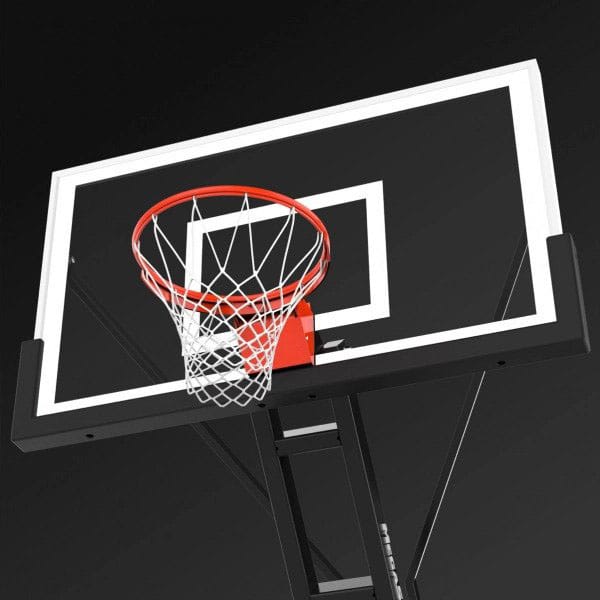 1/2″ Thick Regulation Tempered Glass Backboard With Clear View
½-inch thick tempered glass regulation size backboard provides maximum ball response. Unlike cheap basketball hoops with acrylic backboards, the MegaSlam 60 backboard won't shake or shudder. True and consistent feedback from the backboard helps lockdown bank shot technique. The clear-view backboard design ensures the all important unobstructed view of a pro basketball hoop.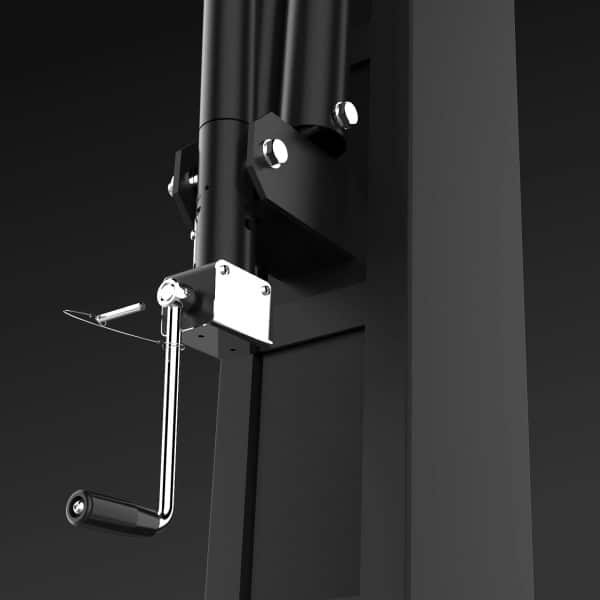 Simple Operation For Hoop Height Adjustment
Easy to operate height adjustment which can be locked for safety. The MegaSlam 60 lowers from regulation 10-feet all the way down to 5-feet, enabling pros of all sizes to dunk all day long. Height adjustment is limited on a standard install, via a safety lock to prevent the hoop being lowered below 7-feet.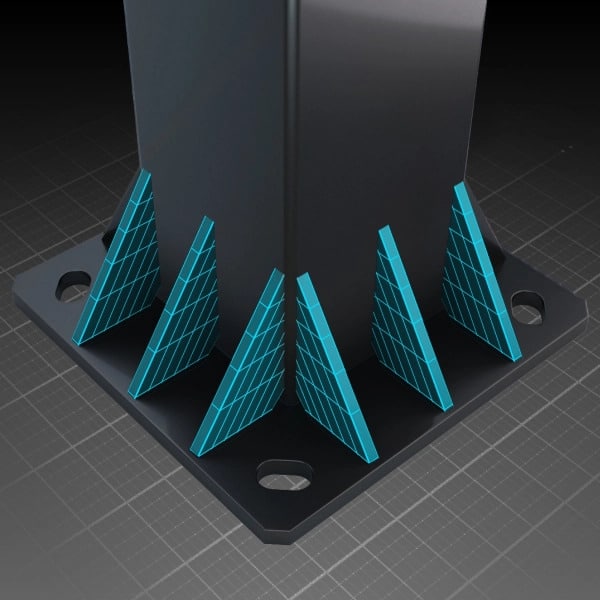 Solid Base Equals Stable Hoop
The main column of the MegaSlam 60 is reinforced with 12 gussets, dwarfing the competition in strength. The heavy-duty MegaSlam systems stay true from the ground up, built on a rock-solid base.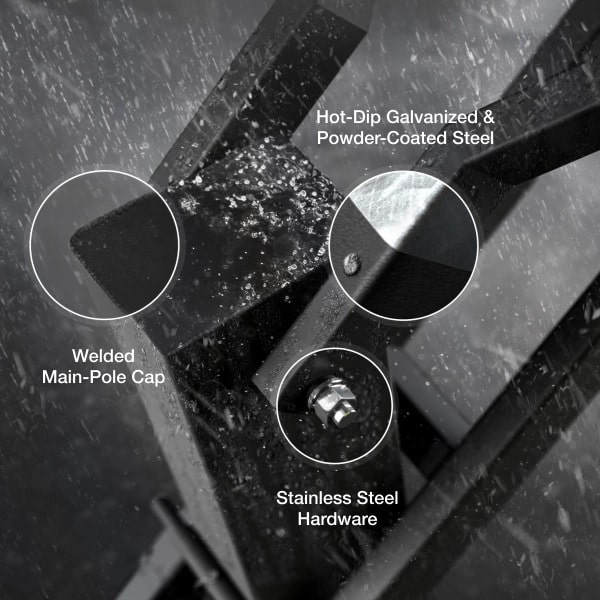 Unrivalled Weather Protection
Every Mega Slam 60 is ready for the rigours of European weather. Hot-dipped galvanized steel and stainless steel hardware sees the Mega Slam 60 through all seasons. Hard-wearing home basketball hoops to last a lifetime.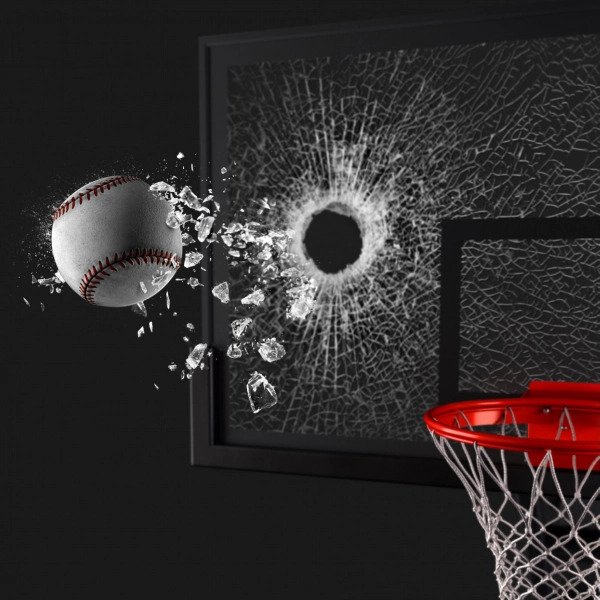 No-Break Backboard Protection®
Play related breaks will never happen, so there's a lifetime warranty for all play related incidents. Sometimes things go wrong on home basketball court and the MegaSlam's tempered glass backboard can break. Mega Slam Hoops offer a one-time replacement guarantee for non-play related incidents.
Mega Slam 60 Technical Specifications
Dimensions
Maximum System Height (top of backboard): 12.3 ft
Adjustable Rim Height: 5 ft-10 ft
Total System Weight: 600 lbs
Total Width: 60"
Depth (overhang) at 10 ft: 36"
Depth (overhang) at 7.5 ft: 52"
Depth (overhang) at 5 ft: 48"
Playability
BACKBOARD
60" x 36"
60"- wide backboard
½-inch regulation pro-style tempered glass
Clear-view backboard design (clearer than competition H-frame style)
180° PRO RIM™
Pro Ring Design
18″ Diameter
25.3″ Depth (from backboard)
1100 lbs of Torque
Adjustability
ADJUSTABLE HEIGHT
Adjusts to any height between 5 ft -10 ft
OVERHANG DISTANCE
At 10 ft = 36"
At 7.5ft = 52"
At 5 ft = 48"
LIFT ASSIST
1 double spring loaded cylinder
ADJUSTABLE CRANK
Easy-turn handle is removable
Rigidity
5-GAUGE STEEL
Thickest in industry
6″ X 6″ MAIN POLE
Monster-sized for every game
DIRECT-CONNECT RIM
Attaches directly to lower extension arm
TOTAL WEIGHT
600 lbs
SUPPORT GUSSETS
12
Durability
DUPLEX COATING SYSTEM
Hot dip zinc galvanization + powder coated steel.
STAINLESS STEEL HARDWARE
Rust protection on nuts and bolts (anchor bolts are galvanized).
ADVANCED ARM ASSEMBLY
Support bolt fits in reinforced main pole.
PERIMETER BACKBOARD SUPPORT
2″ steel perimeter frame
GLASS PROTECTION FRAME
2″ diecast aluminum backboard frame
Safety
HIDEAWAY NET®
Recessed net attachment system to rim
STOP PIN
Insert stop pin to limit height to 7.5 feet
2″ THICK PADDING
Custom-fitted for pole and base
1″ BACKBOARD PAD
Protects heads for play underneath
Mega Slam 60 Installation
Check out the main steps required to install a Mega Slam 60 Hoop. Make sure you're aware of every step involved when installing your system. Correct installation ensures a lifetime of fun. Follow the links to download detailed installation instructions for your model.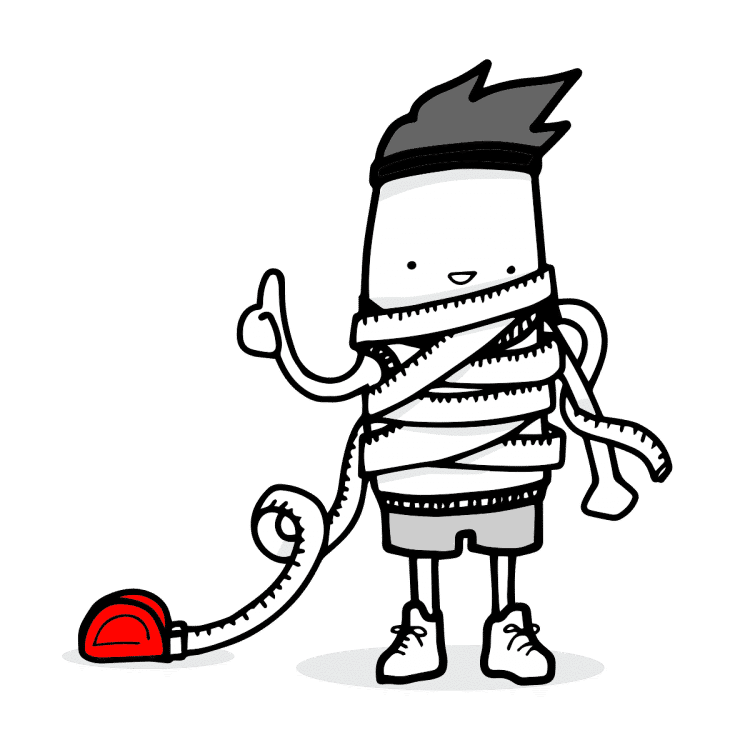 1. Plan & Prep
Pick the perfect spot for your hoop to live. The Mega Slam 60 has an overhang of 36″. Note: Hitting a below-ground utility service by accident is no fun. Be sure to check the ground for service routes before and during digging.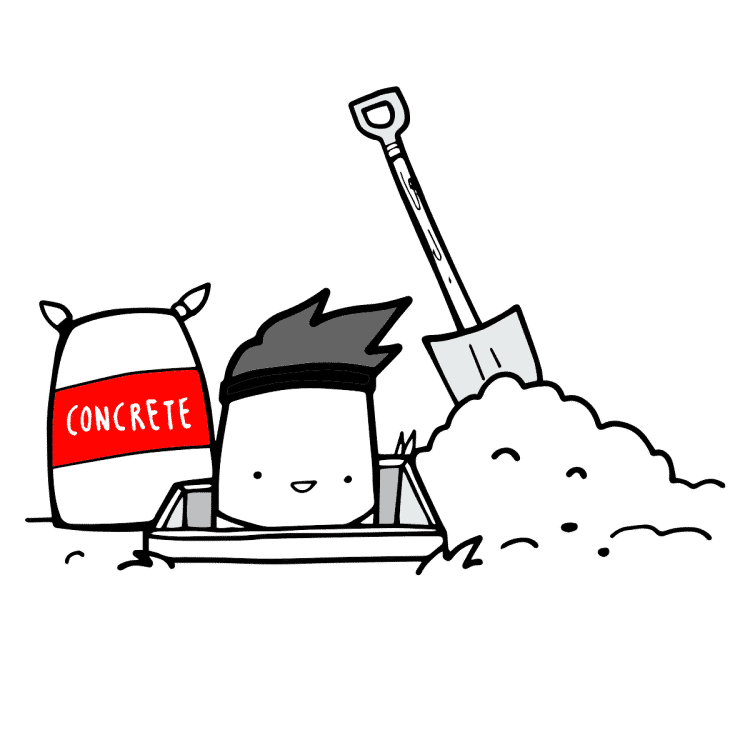 2. Dig & Pour
Dig a 1.25m deep hole and fill it with concrete to build the foundation for your in-ground hoop. It will take a lot of concrete, so be ready. Check your detailed instructions before you start digging.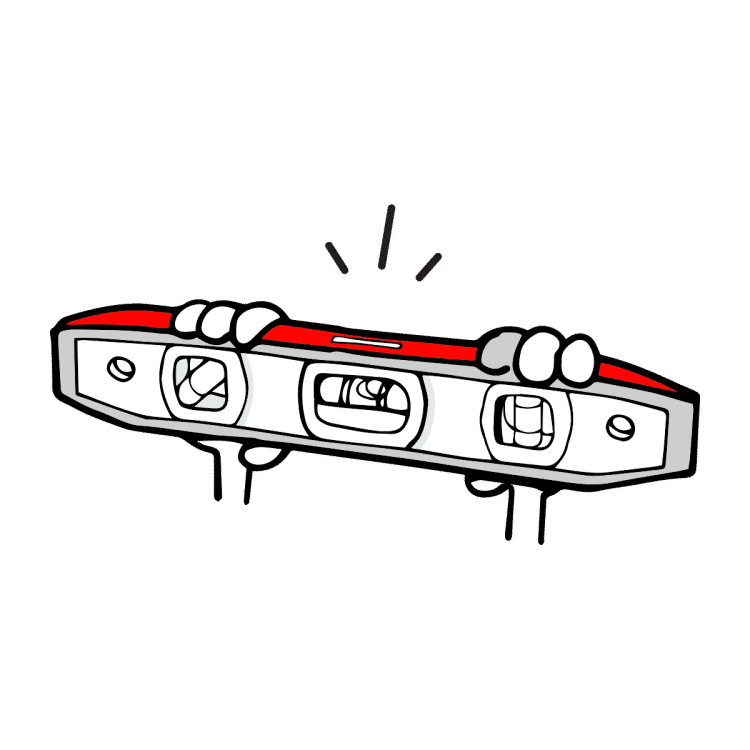 3. Level Your Anchor
After 72 hours of drying concrete, it's time to make sure to level the system. You want a level the system because it will play true. Watch our video on how to level the anchor.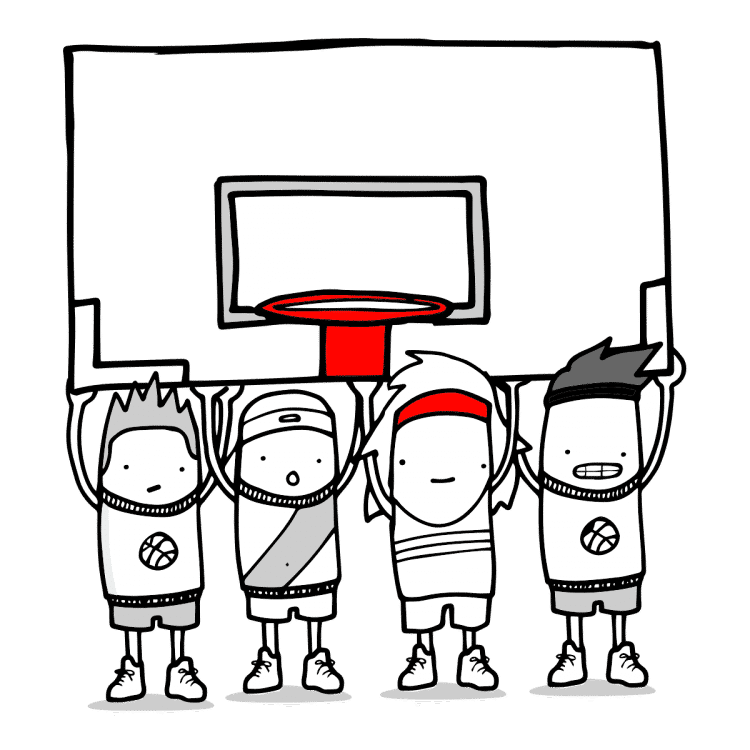 4. Install Your System
If you're planning on installing a Mega Slam Hoop yourself, you'd better call some back-up. The systems are heavy, like really very heavy and require at least 3 strong people to lift a large glass backboard. Each model is a little different, so reference your manual.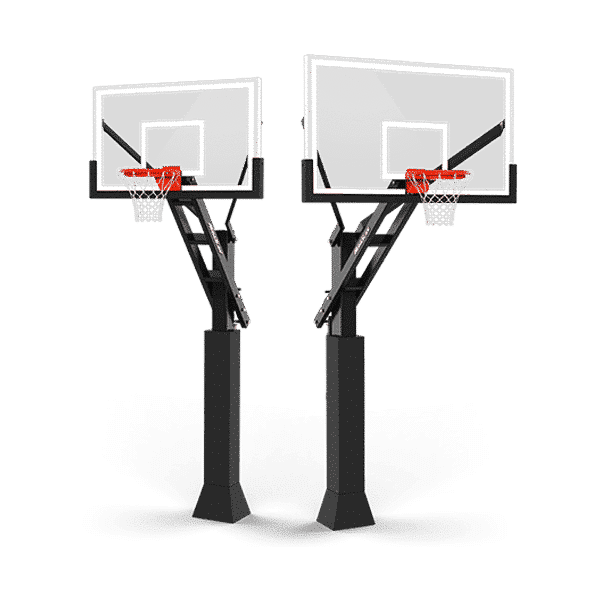 Mega Slam Hoops Shipping & Delivery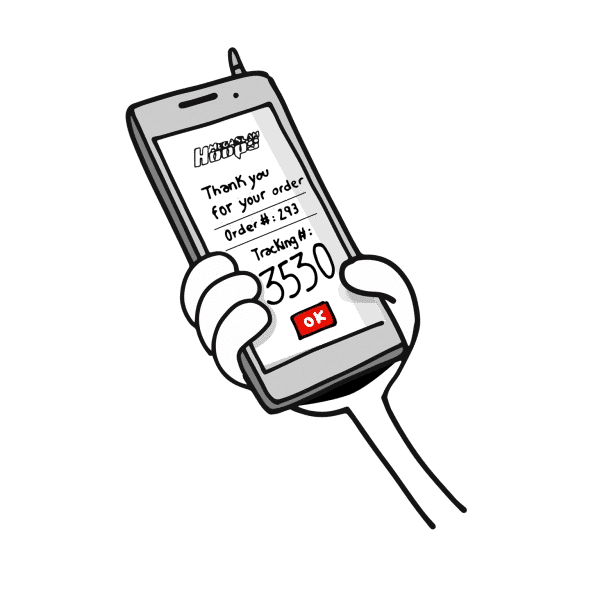 1. Confirm Your Order
Congrats on ordering your new hoop. Now look for an email that has your order details.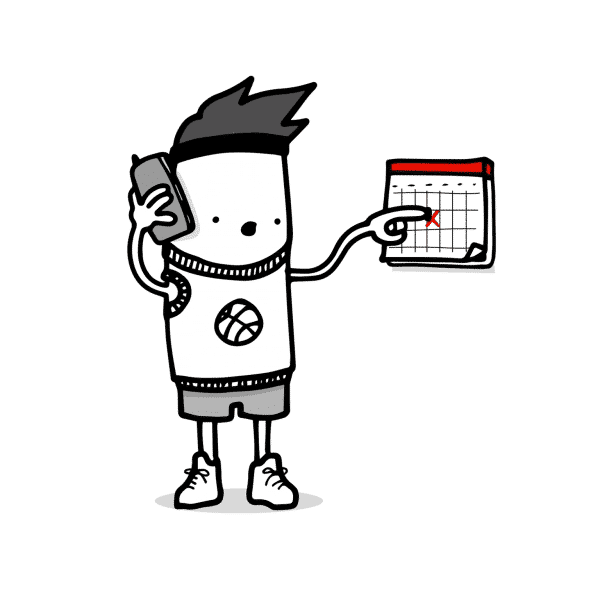 2. Dispatch & Delivery
You will receive confirmation of your order dispatch, this will include the prospective delivery timescale.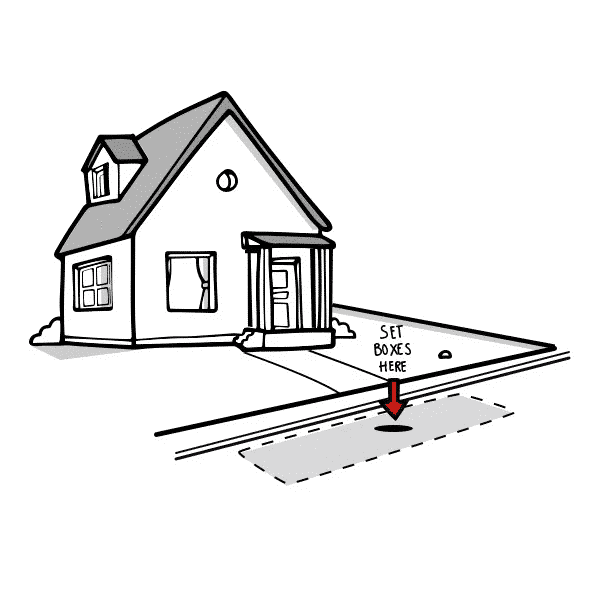 3. Make Room For Your Hoop
Mega Slam basketball systems are big (up to 340 kgs) and the shipping pallet takes up quite a bit of space when delivered.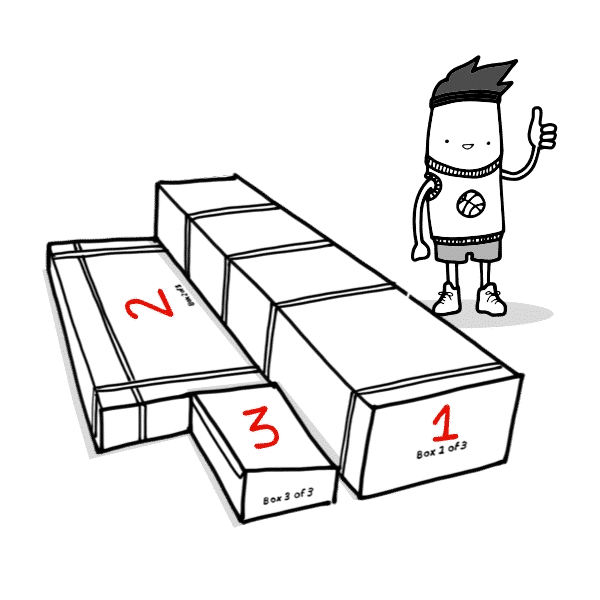 4. Inspect Your Hoop Delivery
Based on the size of your order, make sure the correct number of boxes are strapped to each pallet (every system arrives on one pallet with clearly numbered boxes). It's okay if some of the boxes have dents or are torn. Our systems are rugged and will survive minor damage to the boxes.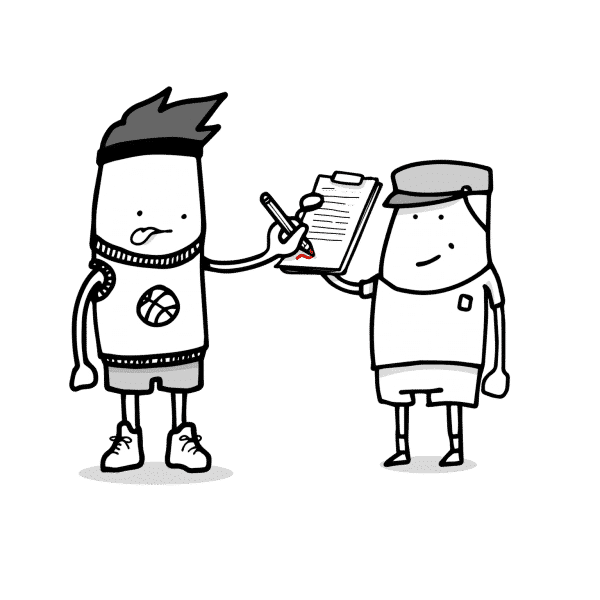 5. Sign To Release Your Delivery
Now, your friendly delivery specialist will ask for a signature to release your basketball system. If there is any visible damage to the boxes (or the system), please document the specific damage on the delivery sheet and take photos before you sign.
If any items have been damaged, accept the delivery and immediately contact us. Include any photos within the email and we will expedite delivery of replacement parts.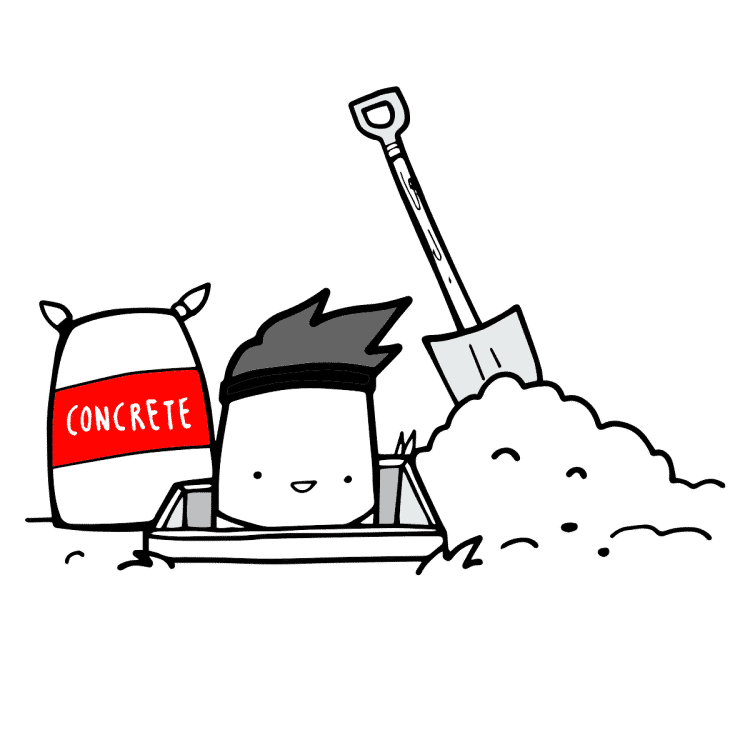 Installation
Once your hoop is delivered it's time for installation.
Mega Slam 60 FAQ
How tall is an nba basketball hoop?
The Mega Slam 60 is 10 feet tall, just like pro NBA hoops. The width and height of the backboard are slightly smaller than the 72" model but the hoop height remains the same at 3.048m.
What's the height adjustability of the Mega Slam 60?
The Mega Slam 60 adjustable basketball system is suitable for all ages and skill levels. The height range can be adjusted anywhere from 1.5m to 3.048m. The mechanism incorporates a safety pin which when engaged, will prevent the hoop from lowering beyond 2.28m.
Is DIY installation possible with a Mega Slam 60?
You can install your own Mega Slam 60. The backboard and main column are very heavy (270kg+), so if you're up for the challenge of installing it yourself, make sure you have some friends along to help with the lifting.
How long does it take to install a Mega Slam 60?
Whether you're installing it yourself or completing the job professionally, installing a Mega Slam 60 is a two-step process.
The ground anchor assembly is installed in the first step. Depending on your ground conditions, tools and skill, this step can take a few hours or often more.
It's then advised to allow the concrete to cure for a minimum of 72 hours prior to assembling the Mega Slam 60.
The second step of the installation takes approximately 2 hours, to complete the assembly of the Mega Slam 60 and fix it to the ground anchor.
How long do I need to wait before playing on the Mega Slam 60?
As soon as the Mega Slam 60 is installed, provided you've followed the detailed instructions, it's game on!
Enquiry
Complete the enquiry form below to get the ball rolling on your enquiry.
"*" indicates required fields