7.33 x 9.38m Basketball Court Surface
£5,117
Design your basketball court in immersive 3D.
7.33 x 9.38m Basketball Court Surface Details
Practice makes perfect on this safe and engaging space, providing a great introduction to the game for aspiring stars. Serious ballers can rain free throws to reign at the foul line and practise central 3 point shots.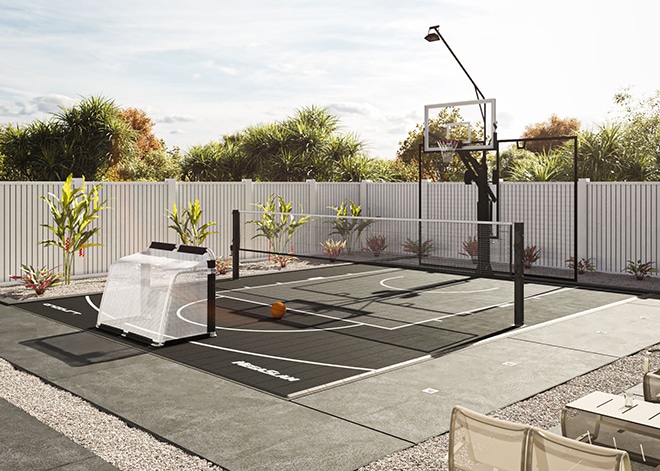 Versacourt Game Outdoor Sports Flooring
1008 Versacourt Game Outdoor Modular Sports Tiles with 132 ramp edging tiles. Select from 17 long lasting UV stable tile colours above.
Shock Absorption – 19mm shock attenuation aims to reduce impact stress.
Durability – UV resistant tiles long outlast the competition.
Low Maintenance – Less time fixing and mending, more time playing on court.
Eye Catching – Engaging courts inspire athletes of all ages and abilities.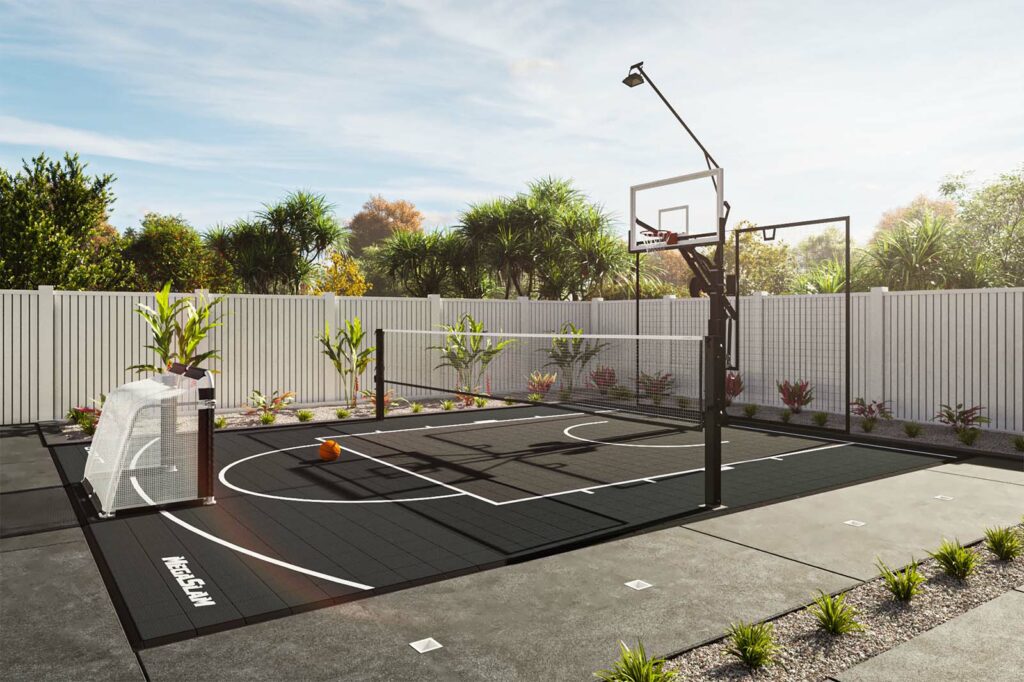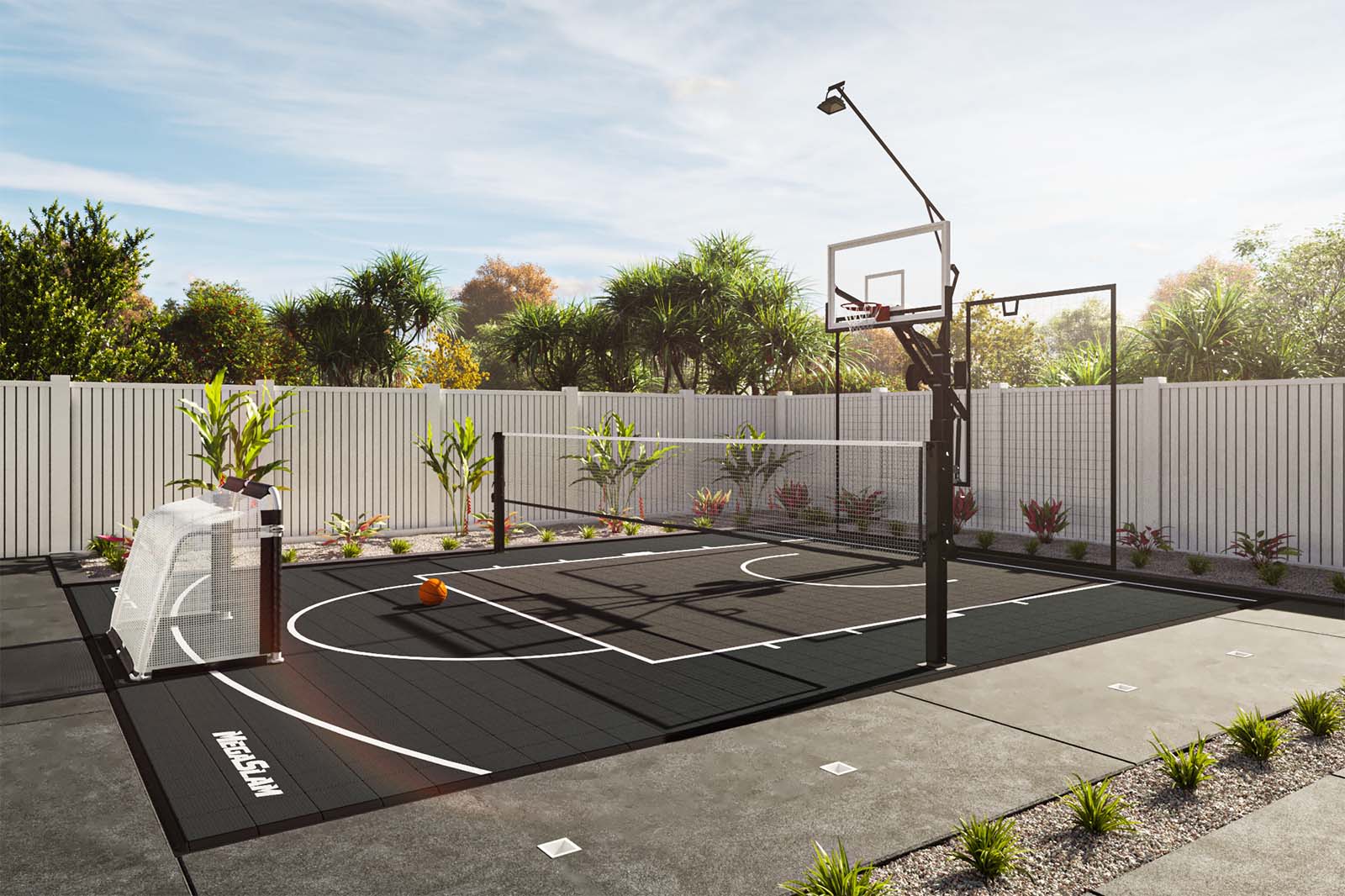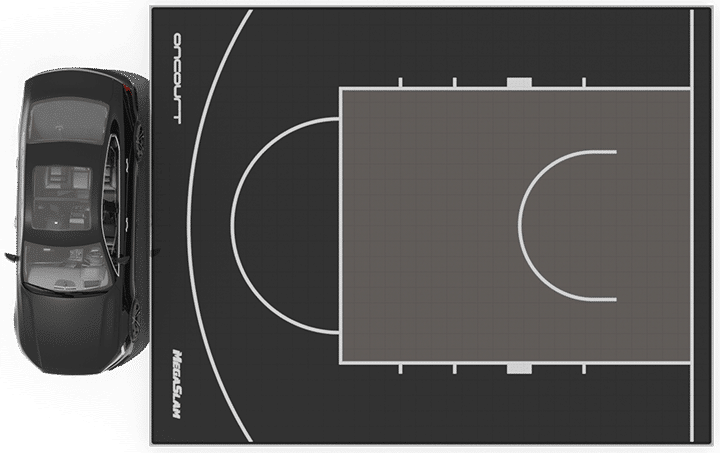 7330 x 9380mm Basketball Court Dimensions
The playing surface measures 7330 x 9380mm, consisting of 28 x 36 tiles. The surface is bordered by a 50mm ramp edge and approx. 30mm 'over sail' to accommodate tile expansion in hot weather.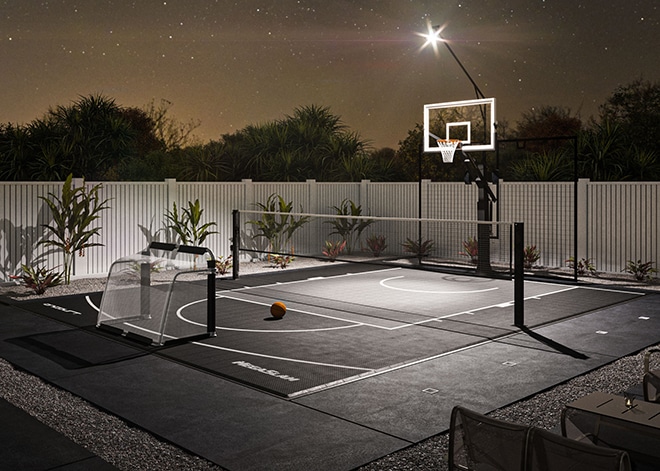 7.33 x 9.38m Basketball Court Kit
Add a monster Mega Slam Hoop to your surface and choose leading court components to compliment your court with the complete 7.33 x 9.38m Basketball Court Kit.
Leading Court Components
The full kit includes the playing surface, your choice of hoop and optional audio, lighting and containment upgrades. The Multi-Sport Net System extends the court's use with more of your family's favourite sports.
Useful Basketball Court Links
(Open in new tab)
Versacourt Game Outdoor Technical Specifications
Verscourt's outdoor sports tiles are an eye-catching, low maintenance and durable surface for basketball courts. The 19mm tile depth aims to reduce impact stress associated with hard surfaces such as concrete. The reverse spring tension interlocking system provides a truly exceptional uniformity across the court surface. Play with greater intensity without the fear of 'blowout' and tile shatter from inferior tile systems.

Materials
VersaCourt Game Outdoor court tiles
Description – An injection molded, high impact plastic tile supplied in pre-assembled 12-tile sheets.
Size –10.13" x 10.13" x 3/4" (25.73cm x 25.73cm x 19.05mm)
Material – Specially blended high impact polypropylene copolymer. UV stabilizer and anti-oxidant additives are molded into each tile to ensure protection against colour fade and plastic deterioration & oxidations.
Surface Texture – Specially designed open grid that provides a high grip surface in all weather conditions. NOTE: Plastic game tiles can become slippery when moisture is present on the surface.
Tile Interlocking Mechanism – The tile interlocking system is designed to allow for thermal expansion and contraction without causing the surface to buckle. It also provides the player with lateral forgiveness.
Colors – 19 Standard colors and custom options available
Support Structure – Each tile is supported by 155 cross posts. This provides a stable base while at the same time vertical flex.
Weight – 7 oz.
VersaCourt Game Outdoor court ramp tiles
Description – An injection molded, high impact plastic ramp tile. Used around the edge of the court as a ramp from ground to playing surface level.
Size – 10.03" x 2" x 3/4" thick
Material – Same as tile
Surface texture – Smooth
Tile Interlocking Mechanism – Same as tile
Colors – Same as tile
Support Structure – Same as tile
Weight – 1.6 oz.
Material Test Results
Rockwell hardness (ASTM D 785): 74
Heat Deflection @ .455 MPa (ASTM E 648): 195
Flaming at 1000mm (ASTM E 648): 4 min 45s
Auto-ignition temperature (ASTM D-1929): 980˚F
Vicat softening point (ASTM D-1525): 260˚F
Low Temperature Brittleness (ASTM D-2137): -25˚F
Coefficient of Linear Thermal Expansion, (ASTM D-696, E-831): 63 x 10-6 (in/in)/˚F
E-Modulus (ASTM D-5418) 126,000 psi (850MPa)
Flex Modulus (ASTM D-790) 122,000 psi
Tensile Yield Strength (ASTM D-638) 3,300 psi
Elongation at Yield (ASTM D-638) 18%
Notched Izod (ASTM D-256) 15 ft-lb / in at 20˚C
Product Test Results
Flame Spread Index (ASTM E-162): 4 min. 30 sec.
Smoke Development (ASTM E-162): 1 min. 46 sec.
Radiant Panel (ASTM E-84,162,648): .12 Watts/cm²
Friction Test (ASTM C-1028): Dry<.71, wet<.52
Compression vs. Crush (ASTM D-3998): No Break
Noise Reduction Coefficient (ASTM C-423): 25%
R-Value: < 1.0
Flatness: ± 1.5mm
Load Bearing Capacity: 180 psi
Vertical Rebound Characteristics (ASTM F2117-10) 97.1%
EN 14904 Test
Fire Test: EN 13501-1
Emission of formaldehyde: EN 717-1
Emission of pentachlorophenol: Annex D
Release of other dangerous substances: National Standards
Linear Friction: EN 13036-4 using CEN rubber
Shock Absorption: EN 14808
Resistance to a rolling road: EN 1569
Resistance to wear: EN 5470-1 using taber abrader with H18 wheels with load of 1kg (on lacquer: CS10 wheels with 0.5 kg load)
Vertical ball rebound: EN 12235 using basketball
Vertical deformation: EN 14809
Resistance to indentation: EN 1516
EN 14877 Test
Linear friction: EN 13036-4 using CEN number
Shock Absorption: EN 14808: original and after ageing in hot air according to EN 13817 followed by immersion in hot water according to EN 13744
Vertical deformation: EN 14809
Vertical ball rebound: EN 12235 using basketball
Resistance to a rolling road: EN 1569
Water permeability: EN 12616
Specular reflectance: EN 13745
Resistance to wear: EN 5470-1 using taber abrader with H18 wheels with load of 1kg and after EN 14836
Colour loss: EN ISO 20105-A02 after artificial weathering according to EN 14836
Maximum tensile strength: EN 12230: original and after ageing in hot air according to EN 13817 followed by immersion in hot water according to EN 13744
Absolute thickness EN 1969: method A
Basketball Court Sub-Base Requirements
Download the technical specifications for this scheme to provide you or your preferred contractor all the information required to complete the precision finished, reinforced concrete sub-base recommended for this court. Learn more about building a basketball court sub-base.
Basketball Court Sub-Base Suitability
Basketball courts require consistent bounce for good ball response. An uneven base will lead to an uneven surface with increased risk of injury. Versacourt tiles should be laid on a solid structure with a flatness tolerance of 5mm within any 3m radius. Patios, paving and existing sub-bases should be assessed against this flatness tolerance.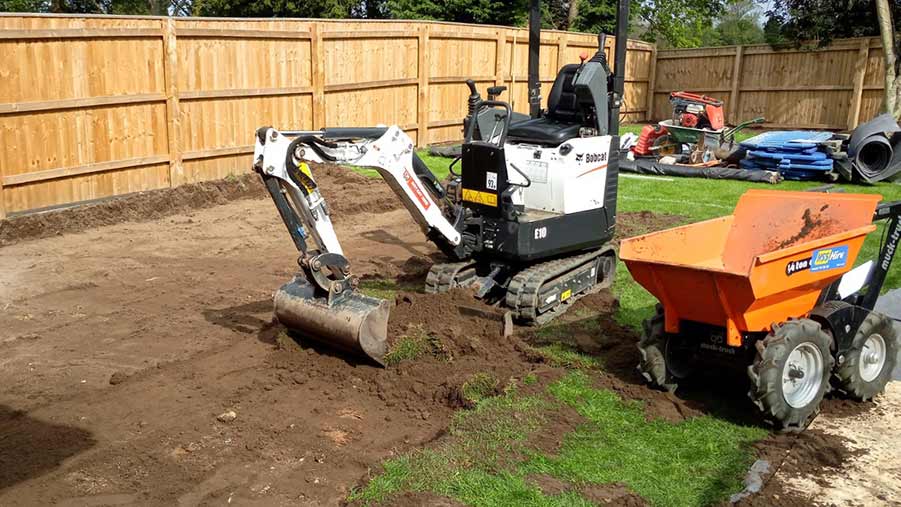 Concrete is the best possible base
A precision finished concrete base maximises the safety features of modular tiled surfaces. The consistency achieved with concrete cannot be rivalled by alternative options such as tarmac and stone. A concrete court should long outlast tarmac, asphalt or granular stone bases. Provided the slab is well constructed with expansion joints and appropriate drainage, a concrete court should last decades.
Cheaper than asphalt in the long term
Uniformity is a key benefit of concrete
Largely maintenance free for decades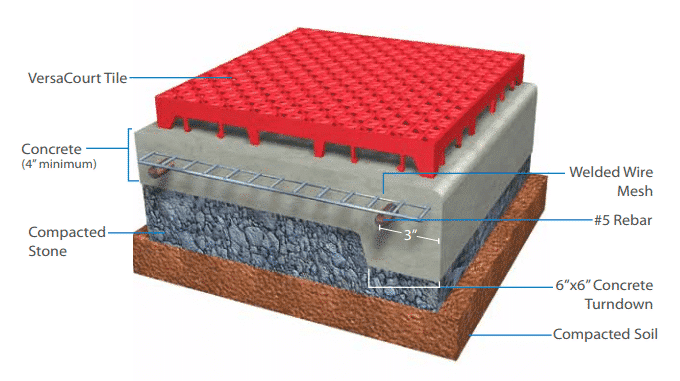 Asphalt Basketball Court Base
Asphalt is a better shock absorber than concrete. The most common surface for outdoor basketball courts is also a cheaper material. Costs for installing asphalt can be higher, as more specific tools are required.
Cheaper than concrete in the short term
Easy to resurface
Provides some surface traction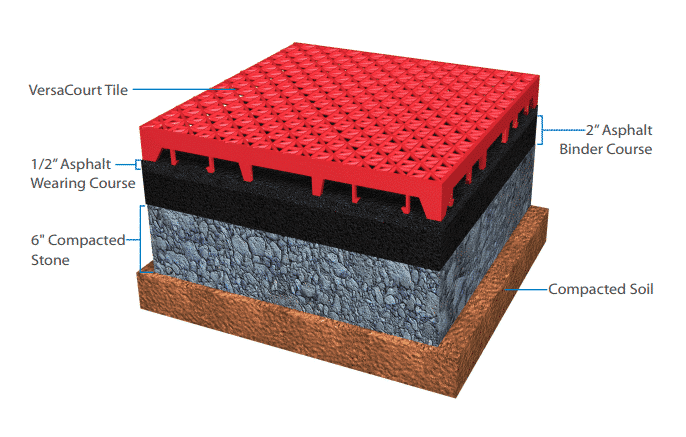 Compacted Stone Base
There will be times when material costs, planning or ground restrictions and surface limitations leave customers needing alternative bases. Compacted stone is the most common of these and the material will be far cheaper than concrete. You will however, require a thin rubber matting to prevent the tile from penetrating the compacted stone.
Slighter Softer Surface
Basketball can be played on this base, but it will increase the softness of the surface tiles. For this reason we recommend overinflating the ball slightly. Tennis and padel are not great with the softer surface, but fun games on compact courts should be fine.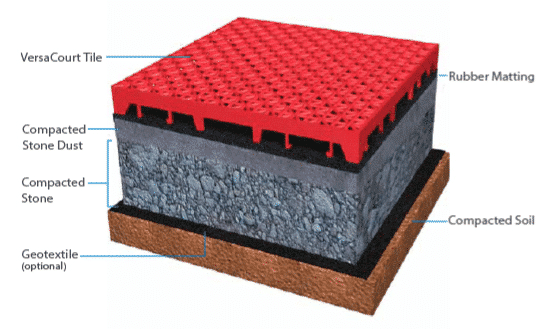 Versacourt Surface Installation
The court surface is simple to install and requires no tools. Before you begin installing the court surface, review your packing slip and verify everything is included and has not been damaged in transit. Review the numbered court layout document and check your sub-base is ready for tile installation. Move the pallet close to the court, remove wrapping and you're ready to begin...

Step 1
The easiest way to install the tile surface is to start in one corner with the hook end of the tiles facing to the right and down; or in other words pointing towards the corner. Locate Panel #1 on your diagram and find panel #1 of your tiles and position into place.
Step 2
Locate Panel #2 and lay into place, continuing in numerical order moving across your diagram until all panels are in place.
Step 3
back and visually inspect to ensure your sections are in their proper place. Make sure the basketball lane lines up with your goal, as well with any tennis lines, logos and other lines matching your diagram, etc.
Step 4
Lock your tiles together. Starting with #1 and move across your court in the same order you laid the tiles down. By gently stepping on the seams, starting at one corner, the hook ends are pressed into the receiver end for a strong hold.
Step 5
Install your ramps and corner pieces. You will have 2 types of ramps, a hook and a receiver, and 4 corner pieces.
Remove all the numbered stickers and enjoy your new basketball court surface!
Custom Court Enquiry
Need a custom court? Check out our Custom Size Court Product or complete the enquiry form below to get the ball rolling on your bespoke project. Versacourt surfaces can be fit to any irregular space and our design team are happy to help.
"*" indicates required fields