Add Bounce To Your Backyard With A Home Basketball Court Installation
If you've ever dreamed of having your very own basketball court in your backyard, OnCourt can give you all the tips and advice you need to make it happen. Recreate home court advantage with our comprehensive guide on building a basketball court at home – from inspiration to installation.
Back garden basketball is possible even in smaller gardens. All you need is a hoop, room to bounce the ball and some space to shoot. There are many options for basketball flooring and basketball hoops; concrete or asphalt, in-ground hoop or portable.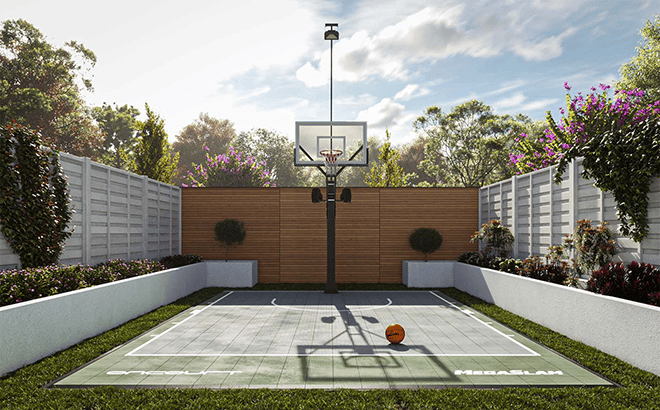 The Main Benefits Of A Basketball Court At Home
Know where your kids are playing and get to know their friends.
Watch your kids grow into champions on their own court
Spend more time playing basketball and less time on maintenance.
Modular system to fit your family and your budget.
Home Basketball Court Checklist
Court sub-base
A precision finished reinforced concrete sub-structure provides the best base for optimum ball response.
Basketball Court Surface
Bare concrete can be brutal so consider adding modular outdoor basketball court flooring.
Basketball Hoop System
Height adjustable, in-ground basketball hoops are the way to go for pro grade basketball courts.
Basketball Court Lighting
To extend play into the night you'll need a basketball court lighting solution.
Beats
Hoop swag is optional, but basketball is better with beats.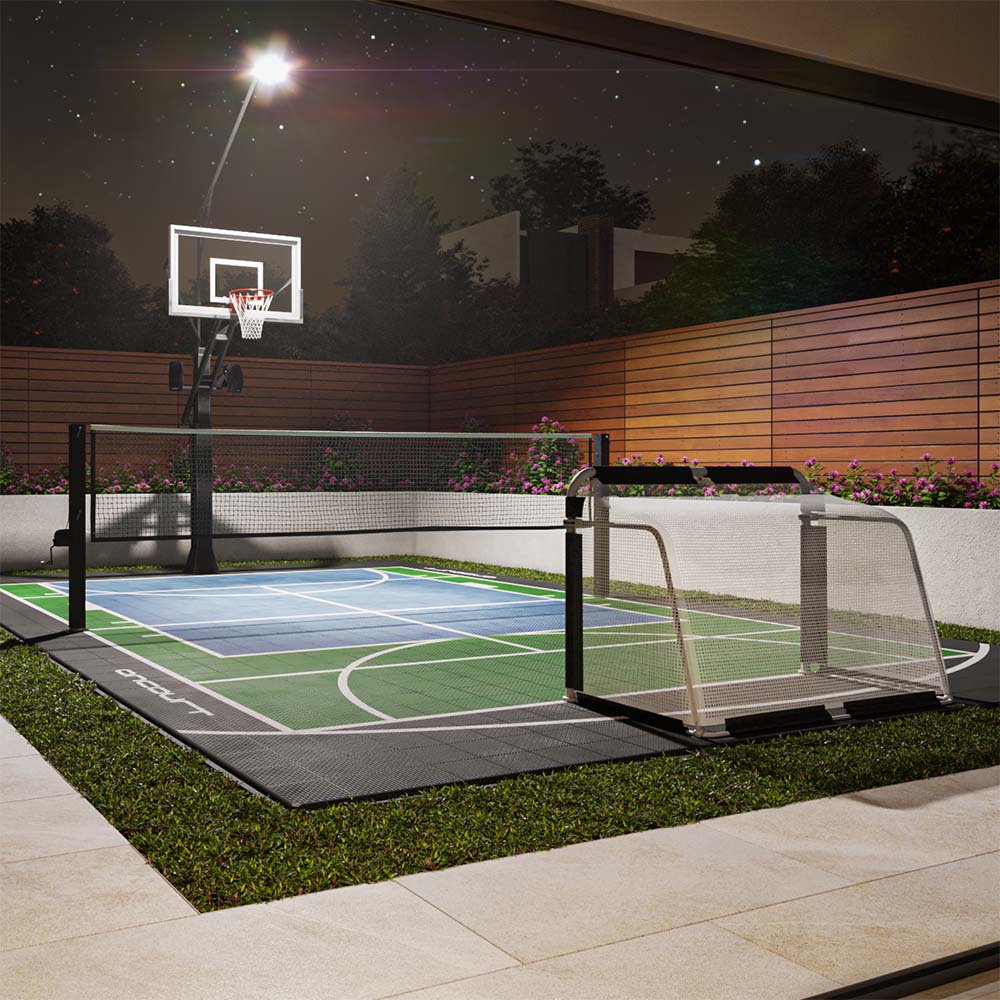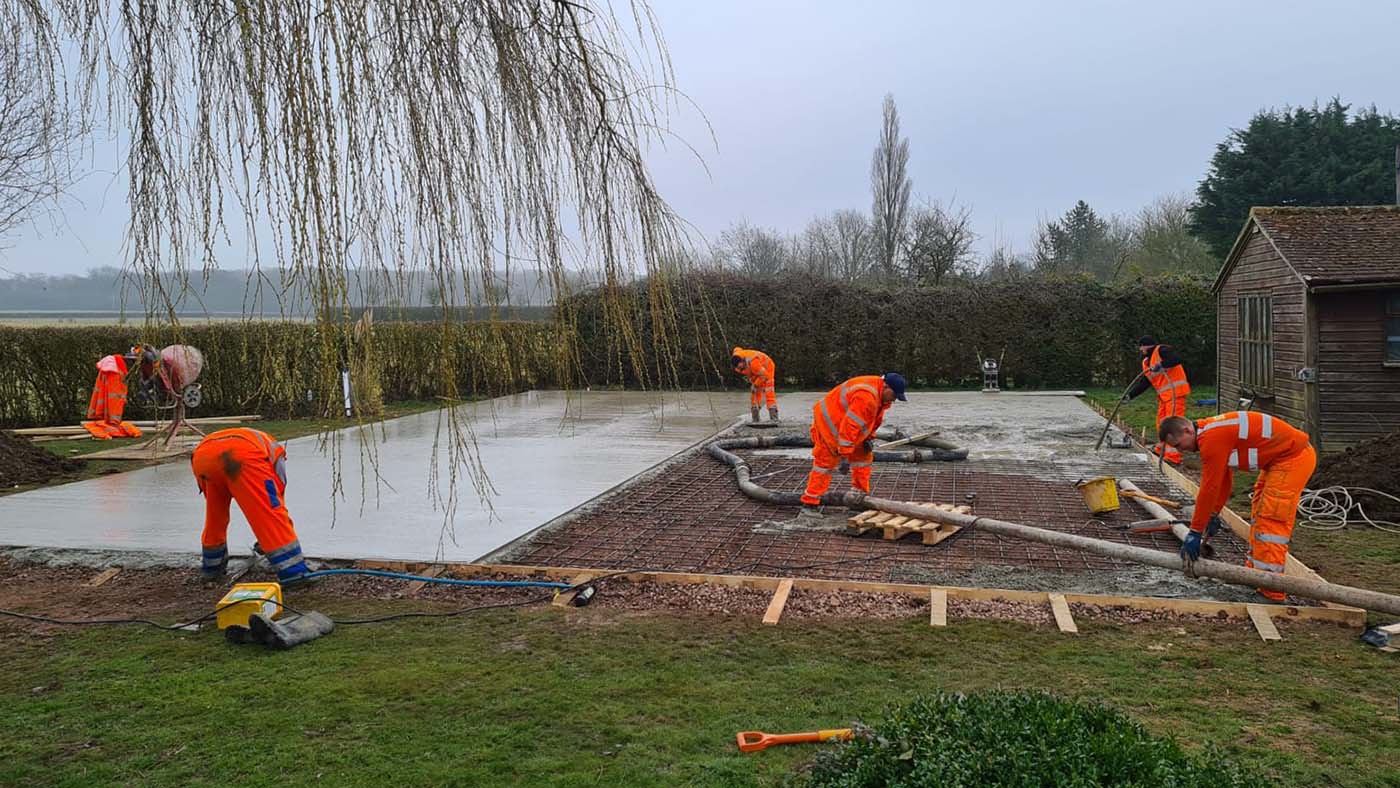 Backyard Basketball Court Sub-Base
Consistent and true ball response is critical to achieve the best basketball playing surface. Ensuring sub-structures are finished within a flatness tolerance of 3mm in any 3m radius, guarantees the best performance from polymeric surfaces such as Traction tiles.
The job of installing a precision finished sub-structure can be completed by an approved OnCourt sub-base installer or we can supply technical specification for self-build projects.

Outdoor Home Basketball Court Surface
Outdoor basketball court surface options include tarmac and concrete courts. Both can be enhanced immeasurably by the addition of a modular sports tile surface. Versacourt Game Outdoor tiles are the best possible outdoor basketball surface, designed to mimic the ball response of an indoor spring-loaded gym.
The Ultimate Home Basketball Hoops
Premium back garden Basketball Hoops from Mega Slam are the ultimate home hoops. Height adjustable in-ground hoops for aspiring ballers of all sizes and skills. Our hoops include the awesome 180 breakaway rim as standard to enhance the 'real feel' of mighty regulation thickness tempered glass backboards.
Backed by a lifetime warranty, a Mega Slam is the last hoop you'll buy.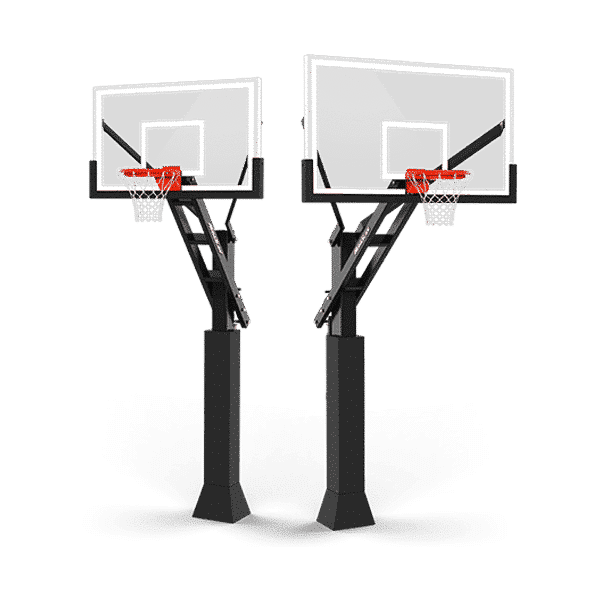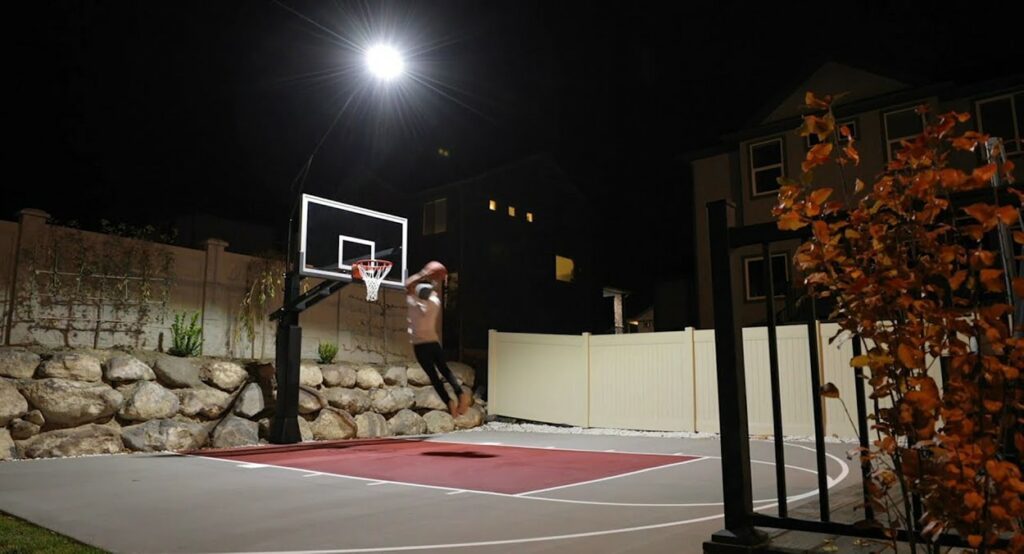 Home Basketball Court Lighting
The ability to extend play into the night means your court gets a lot more game time. In winter, without illumination, shooting hoops after work or school will be a real challenge.
Light up the night with the Game Light from Mega Slam Hoops. The powerful 12k LED light throws ample lumens for late night layups. The latest LED lighting technology means the Game Light won't draw a foul on your energy bill!
Backyard Basketball Beats
The link between hoops and hip hop is realised in the Mega Slam Audio Bracket. Bring all the family's favourite beats OnCourt featuring shot-proof housing for the awesome Bose 251 Environment Speakers (not included). The bracket is compatible with the Mega Slam 60 and 72.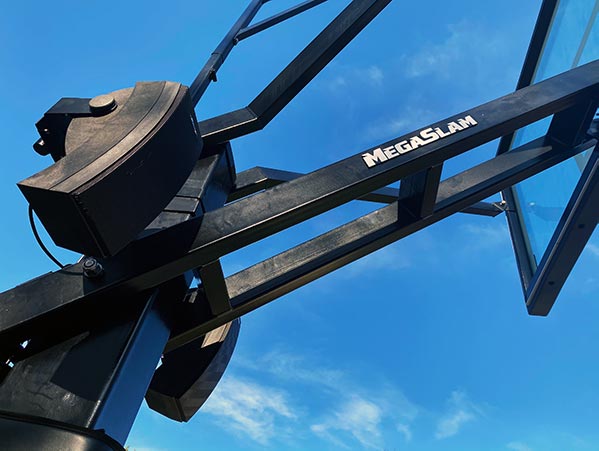 Versacourt Game Outdoor playing surfaces x Mega Slam Hoops for the ultimate home basketball courts.