Custom Size Basketball Court
Versacourt playing surfaces can be designed to fit any space. Configure and submit a custom court enquiry to get the ball rolling.
Custom Size Basketball Court Surface Details
Versacourt Game Outdoor Modular Sports Tiles with ramp edging tiles. The innovative tile design with unique six-point locking system creates a playing surface with exceptional uniformity meaning greater consistency, awesome ball response and unrivalled playability. Select from 17 long lasting UV stable tile colours above to get the ball rolling on your custom court project.

Leading Modular Outdoor Basketball Court Surfacing
Versacourt's patented interlocking system means no 'blowouts' experienced with cheaper alternatives. Play for longer, with greater intensity on the ultimate athletic court system.
Shock Absorption – 19mm shock attenuation aims to reduce impact stress.
Durability – UV resistant tiles long outlast the competition.
Low Maintenance – Less time fixing and mending, more time playing on court.
Eye Catching – Engaging courts inspire athletes of all ages and abilities.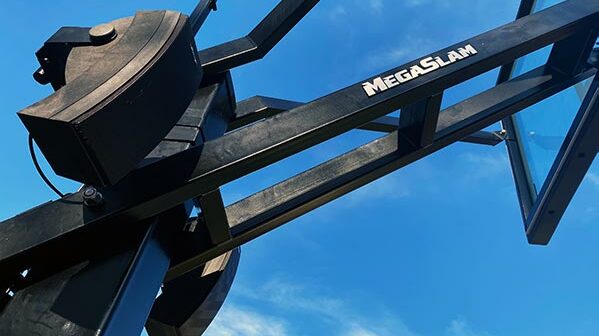 Premium US Height Adjustable Basketball Hoops
Select from the mighty Mega Slam 72″ or 60″ models and extend play into the night by adding the 12k LED Game Light. Add beats to your basketball with the Audio Bracket and save the garden flowers with a Net Protect.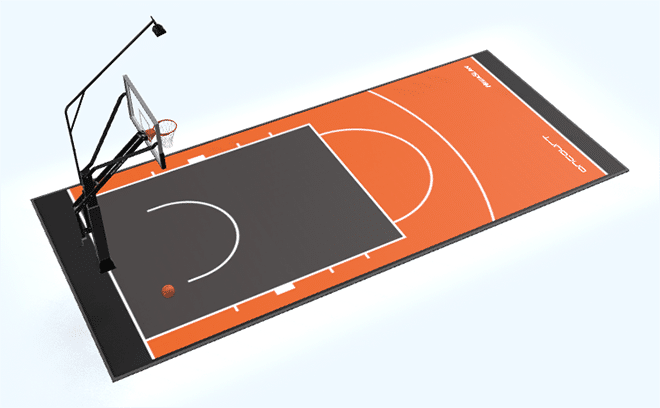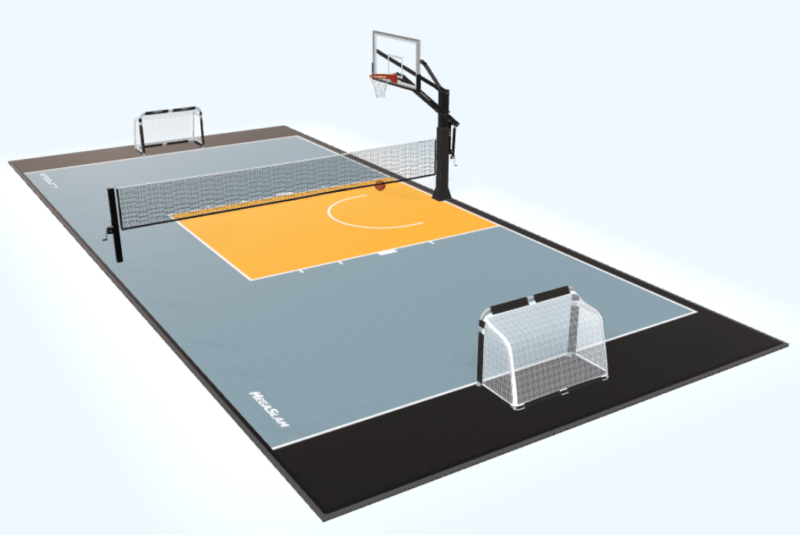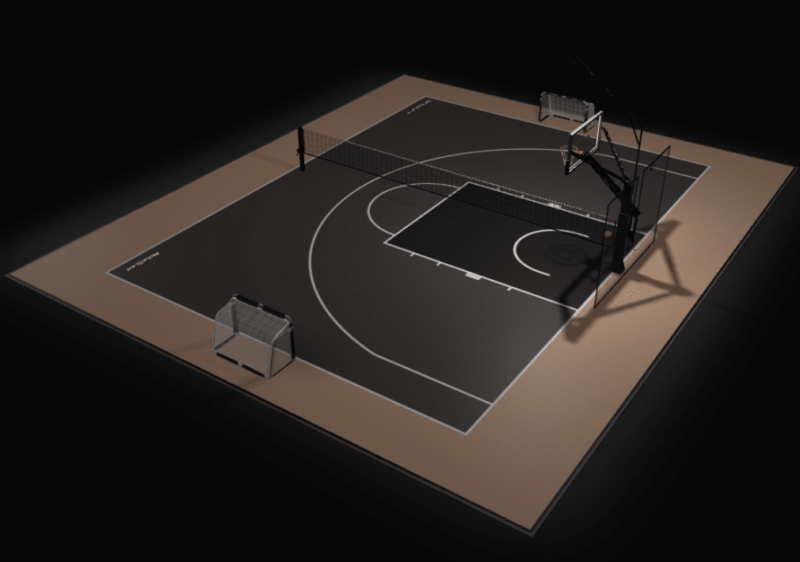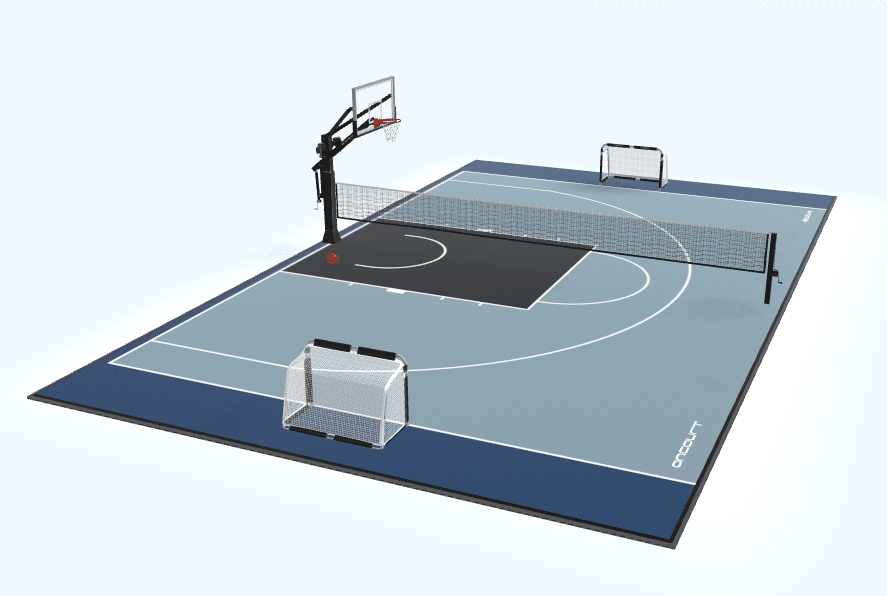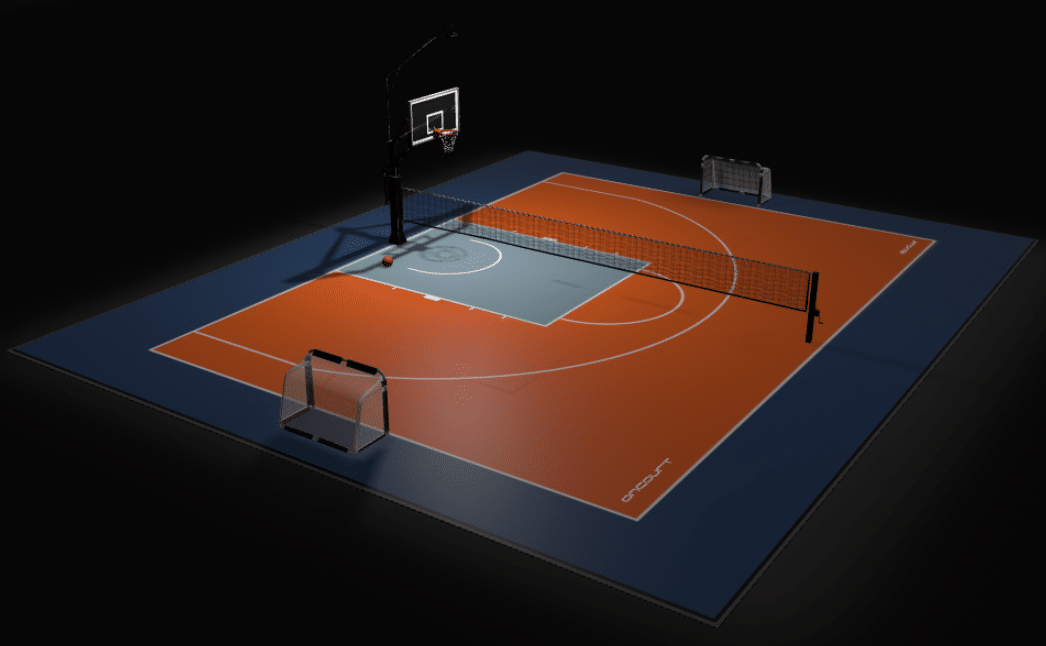 Custom Basketball Court Dimensions
The length and width of your court should be chosen based on what fits inside the maximum available space. Depending on your hoop, be sure to leave clearance for height adjustment handle operation. Versacourt outdoor sports flooring is bordered by a 50mm ramp edge and approx. 30mm 'over sail' to accommodate tile expansion in hot weather.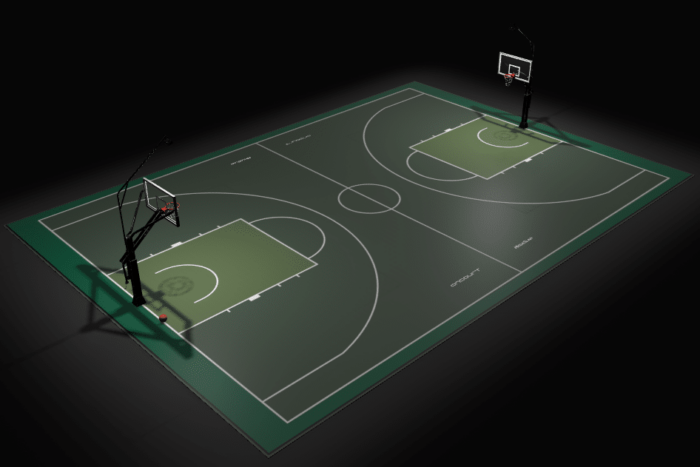 Useful Basketball Court Links
(Open in new tab)
Basketball Court Sub-Base Requirements
To ensure the greatest benefits from the custom court surface, you'll need a precision finished sub-structure. OnCourt provide technical specifications and diagrams to enable you or your preferred local contractor to complete the sub-base construction. Learn more about building a basketball court sub-base and find a suitable groundworks contractor in the Installer Directory.
Basketball Court Sub-Base Suitability
Basketball courts require consistent bounce for good ball response. An uneven base will lead to an uneven surface with increased risk of injury. Versacourt tiles should be laid on a solid structure with a flatness tolerance of 5mm within any 3m radius. Patios, paving and existing sub-bases should be assessed against this flatness tolerance.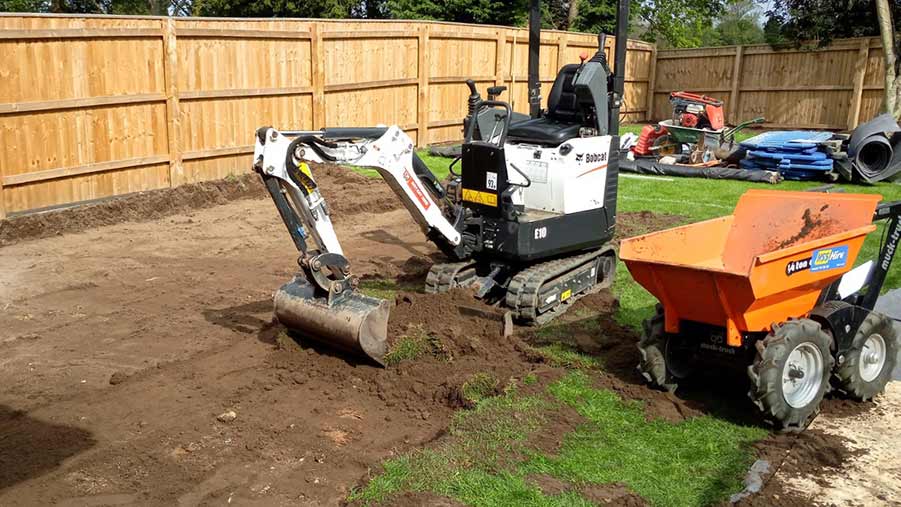 Concrete is the best possible base
A precision finished concrete base maximises the safety features of modular tiled surfaces. The consistency achieved with concrete cannot be rivalled by alternative options such as tarmac and stone. A concrete court should long outlast tarmac, asphalt or granular stone bases. Provided the slab is well constructed with expansion joints and appropriate drainage, a concrete court should last decades.
Cheaper than asphalt in the long term
Uniformity is a key benefit of concrete
Largely maintenance free for decades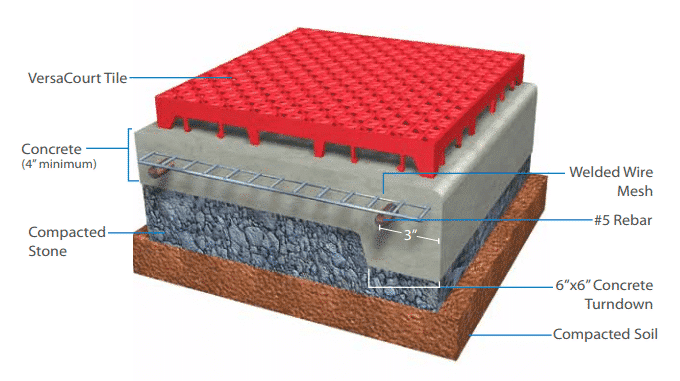 Asphalt Basketball Court Base
Asphalt is a better shock absorber than concrete. The most common surface for outdoor basketball courts is also a cheaper material. Costs for installing asphalt can be higher, as more specific tools are required.
Cheaper than concrete in the short term
Easy to resurface
Provides some surface traction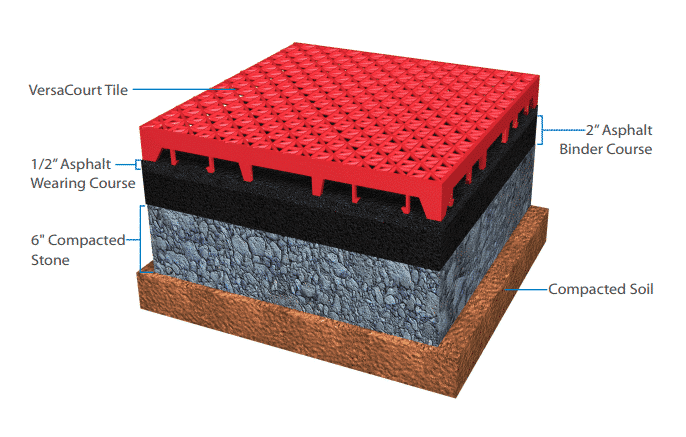 Compacted Stone Base
There will be times when material costs, planning or ground restrictions and surface limitations leave customers needing alternative bases. Compacted stone is the most common of these and the material will be far cheaper than concrete. You will however, require a thin rubber matting to prevent the tile from penetrating the compacted stone.
Slighter Softer Surface
Basketball can be played on this base, but it will increase the softness of the surface tiles. For this reason we recommend overinflating the ball slightly. Tennis and padel are not great with the softer surface, but fun games on compact courts should be fine.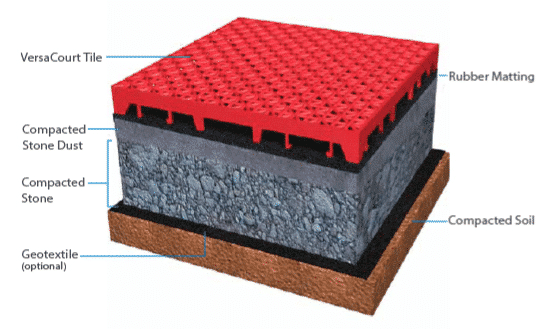 What is the basketball court surface?
The kit includes 560 Versacourt Game Outdoor modular sports tiles.
When installed on a suitably hard and flat sub-base, the tiles provide uniformity and ball response similar to spring-loaded indoor courts.
The tiled surface aims to reduce the risk of impact stress and joint fatigue associated with bare concrete courts.
The Tech Specs tab above includes detailed information and product test data.
Order a sample of Versacourt Game Outdoor.



Do I need a concrete sub-base for this court?
OnCourt recommend a precision finished concrete base, specifically where basketball is the primary sport.
The Sub-Base tab above, includes more details on what's required to make the most of the court.
Visit How to Build a Basketball Court for more information on the importance of a good base.
What's included in this 'kit'?
The 5.28 x 7.33m Basketball Court Kit includes the Versacourt surface and your choice of Mega Slam Hoop.
You can choose to add court components including a Game Light, Audio Bracket (for Bose Environment outdoor speakers (not included)) and Multi Sport Net System.
If you have your own hoop and are shopping for a surface only, visit the 5.28 x 7.33m Basketball Court Surface product page.
Enquiry
Complete the enquiry form below to get the ball rolling on your enquiry.
"*" indicates required fields