The Ultimate Outdoor HOME Basketball Courts
Compact Backyard Basketball Courts
3 key steps to create your dream basketball court at home. From small free throw shooting areas to 3×3 arenas and beyond, design your backyard game space in stunning 3D. Build your concrete sub-base, install the hoop, components and Versacourt Game Outdoor surfacing following simple plug and play instructions!
Compact Home Basketball Courts From Inspiration to Installation
3 key steps to create your dream basketball court at home. From small key shooting areas to 3×3 Half courts and beyond, configure your dream backyard basketball court in stunning 3D. Build your sub-base, install the hoop, court components and Versacourt Game Outdoor surfacing following simple directions and you're ready to play!
Heavy-Duty US Style Home Basketball Hoops
Dunk-proof basketball stands from Mega Slam Hoops. Height adjustable in-ground basketball hoops designed and built to last a lifetime. Regulation ½-inch thick tempered glass backboards offer a clear view and superb ball-response.
Versacourt Modular Basketball Court Flooring
The most innovative basketball court flooring for sale today. The advanced patented interlocking system ensures Versacourt Game Outdoor provides exceptional uniformity across the playing surface. Train in safety, with greater intensity on Versacourt's durable outdoor basketball surface.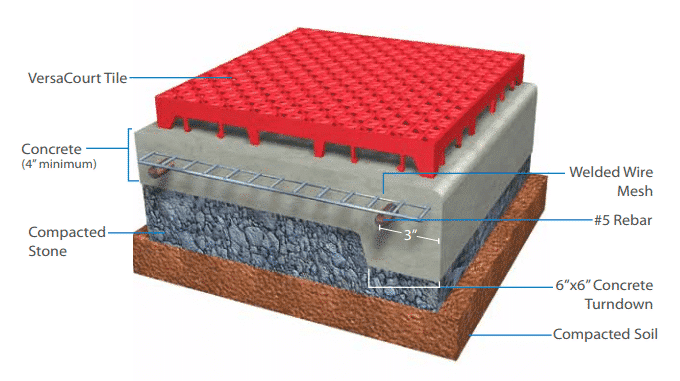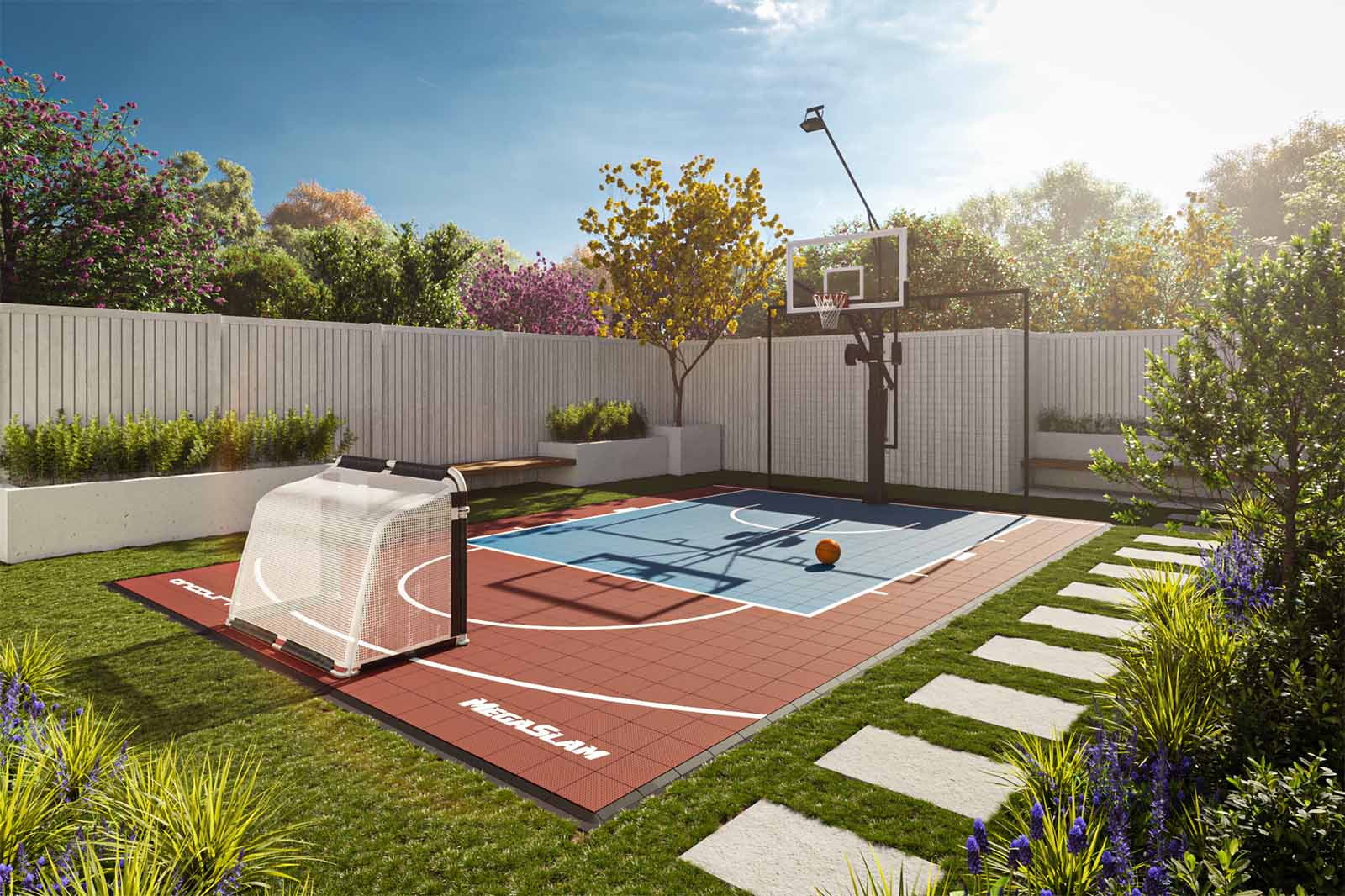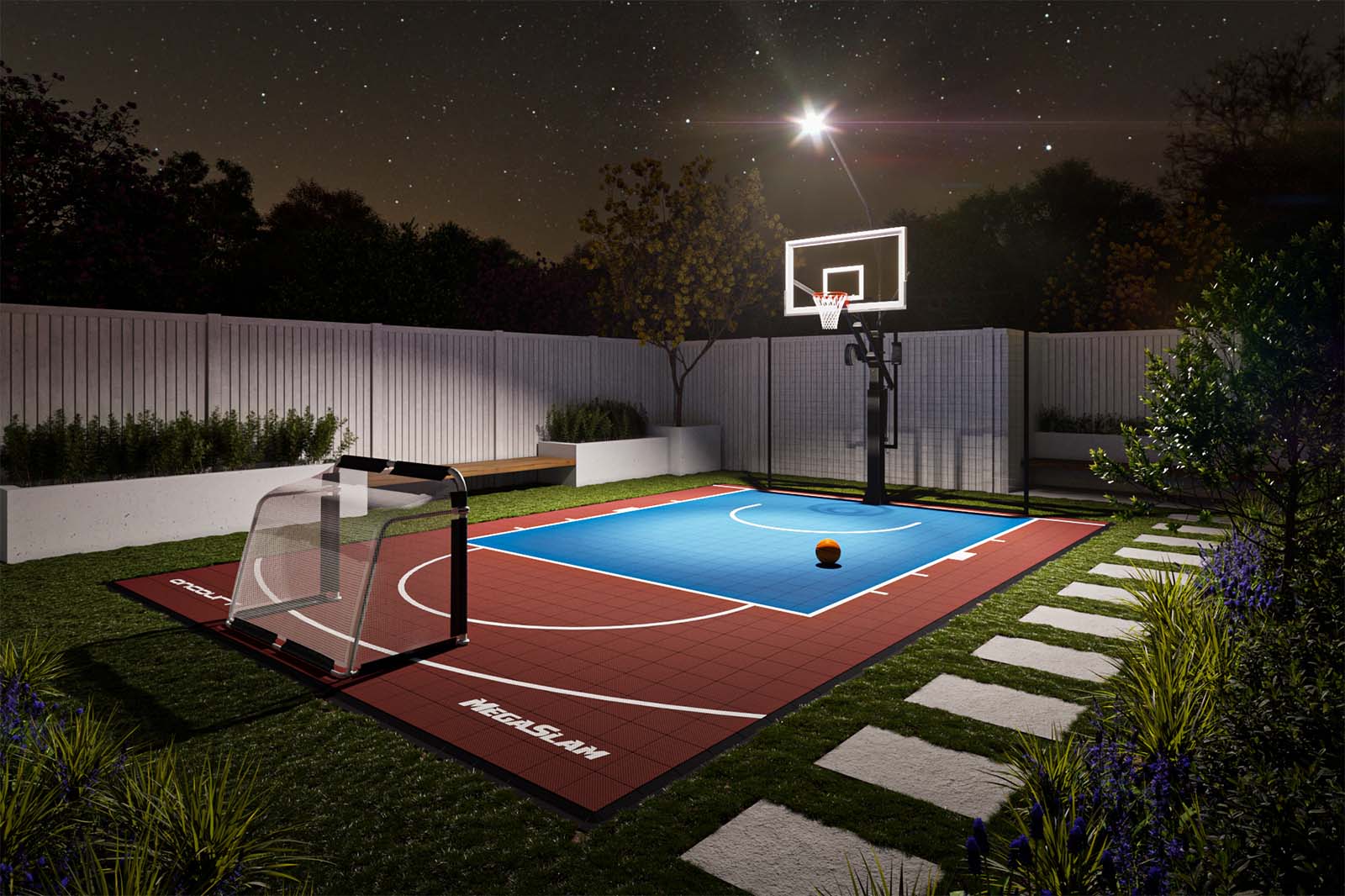 The Main Benefits Of Back Garden Basketball
Less screen time, more game time!
Know where your kids are playing and get to know their friends.
Watch your kids grow into champions on their own court
Spend more time playing and less time on maintenance.
Modular system to fit your family and your budget.
Basketball Courts FAQ
How much space do I need for a Basketball Court?
OnCourt specialise in compact basketball areas. The smallest preconfigured space is just 5.28 x 7.33 m. The entry level court might not include a 3 point line but provides plenty of room for a Mega Slam 60 hoop system with space for shooting, fun or layup drills.

The compact schemes get progressively wider and are 9.5m in length to accommodate a regulation FIBA 3 point arc.

A true basketball half court should be at least 15m wide and at least 9.5m in depth.

Learn more about Basketball court dimensions.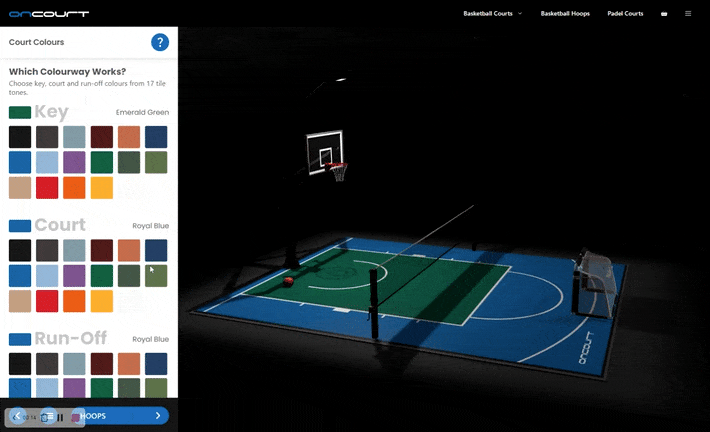 What is the basketball surface?
OnCourt outdoor basketball projects are surfaced with Versacourt Game Outdoor modular sports tiles. We've worked with a number of alternative modular tile products and alternative outdoor basketball court flooring solutions. Versacourt tiles provide everything for the best outdoor sports experience.
Game Outdoor sports tiles are 256 x 256 mm so our most popular basketball product, 6.3 x 9.38m Basketball Court is 24 x 36 tiles. If you've reached for your calculator, the extra space accounts for the 50mm edging strip and room for a little thermal expansion. Learn more about Versacourt Game Outdoor and order a sample.



Where can I learn about commercial basketball courts?
OnCourt work with leading sports agencies and governing bodies to provide event, tournament and brand experiential basketball projects. Visit the commercial sports courts page for more information.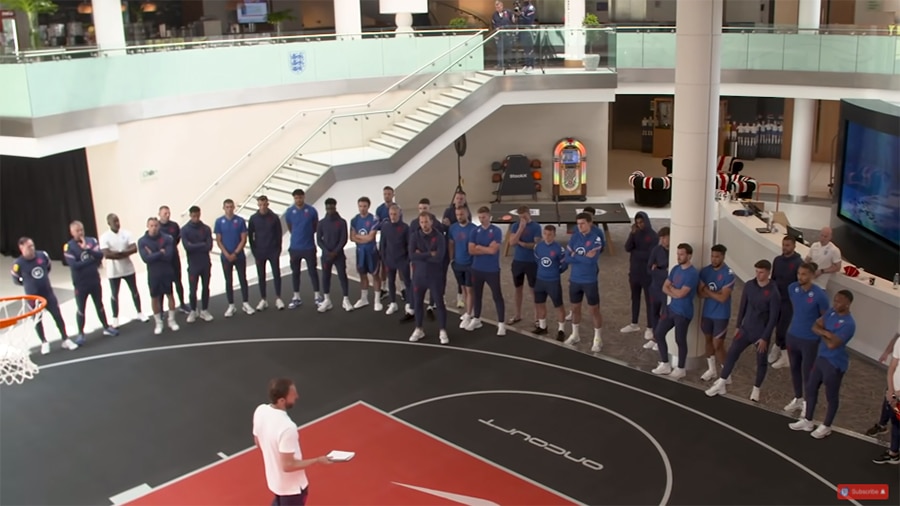 Gareth Southgate 'OnCourt' with the England Squad.
CUSTOMISE Your Court In Immersive 3D
Select size, colours, premium hoops and components