Where Are The Best Basketball Courts In London?
If you live in the Greater London area there are plenty of locations with thriving basketball communities. From the leafy surroundings of Ravenscourt Park to the towering corporate buildings of Canary Wharf, the London basketball scene offers a wide range of options for enthusiastic basketball players.
What Does An Outdoor Basketball Court Need?
The first thing any basketball player does when they arrive on an outdoor court, is assess the standard of the basketball hoops. The hoops need to be robust enough to withstand the impact from thousands of high arcing shots and thunderous dunks. But in turn, the hoop must provide a soft response to a 3 point shot so it doesn't aggressively bounce away after a missed attempt. The rim should be reasonably gentle on the hands when grabbed, so skin isn't torn away during relentless dunk practice. An outdoor 180 degree breakaway rim is guaranteed to get bonus points as it provides a level of professionalism to the outdoor experience.
High quality basketball hoops
Not only is shooting the basketball, arguably the most important basketball skill, it is also one of the most difficult techniques to master. Therefore, a basketball hoop that makes shooting even more challenging can be quite frustrating for developing players. An experienced baller will be familiar with 'double rims' which demand an accurate and high arcing shot otherwise a connection with this stiffer style of hoop system will almost certainly lead to a missed shot attempt. Whilst there is an argument to say, if you can consistently score on a 'double rim' then you can shoot on any type of hoop, if given the choice, most players would avoid these stubborn rims.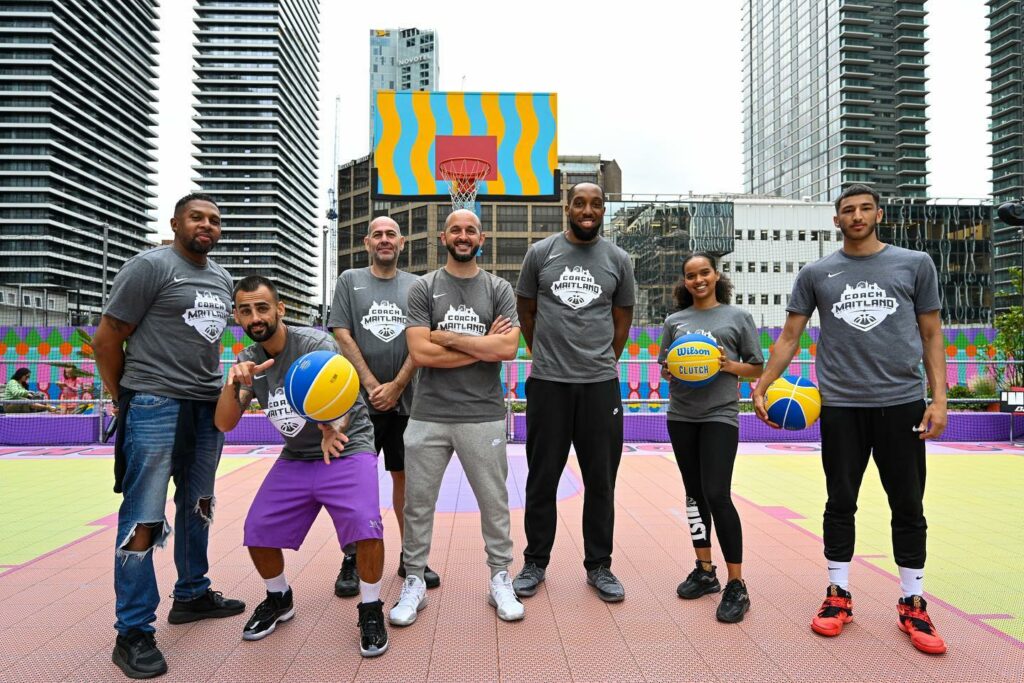 Reliable basketball court surface
The second thing a basketball player looks at is the flooring. A flat basketball court with no gravel and free from fallen leaves and twigs will be deeply appreciated. A surface with good grip that allows for emergency stops and safe take-offs can be enjoyed by players who love a fast-paced competitive pick-up game. There is nothing more frustrating than trying to play on a slippery surface.
A player's ideal court will also have clear court markings that provide enough width to ensure you can successfully shoot a corner 3 point shot without simultaneously being out of bounds. Reconstructing Ray Allen's clutch game-tying shot for Miami in 2013 (watch it here) would be impossible on a narrow court without someone screaming "out of bounds!".
Where Are The Top 5 Basketball Courts In London?
Ducketts Common, North London
Harringay Ladder, London N15 3NX
Commonly known as "TPL" as it is located directly opposite Turnpike Lane Station on the Piccadilly Line, the courts at Ducketts Common have a rich history in London's streetball culture. This court was refurbished in 2012 which turned an already well used basketball space into an attractive iconic streetball arena.
TPL courts feature breakaway rims with the American playground style gooseneck posts. The two full courts have FIBA regulation court markings on a concrete surface which all allows for highly competitive games to be played.
With the courts being close to the roadside, there is a real urban experience as the London buses drive by and many pedestrians walking passed on their way to the high street shops. The courts at TPL are frequently used to host outdoor basketball tournaments each summer.
Finsbury Park, North London
94 Endymion Rd, Finsbury Park, London N4 4LX
Located in the middle of Finsbury Park, the attractive layout with an isolated and peaceful park experience means that basketball players can compete or work on their skills whilst being free from distractions.
The FIBA regulation court markings, gooseneck posts and breakaway hoops provide an exciting outdoor basketball experience. Despite there being some 'double rims' in the mix, there are a number of breakaway hoops available which significantly reduces any potential disappointment.
The courts at Finsbury Park also hosted the Ball Out 3×3 Finals in the summer of 2021.
Bank Street Park, Central London
Situated amongst the towering corporate buildings within Canary Wharf, the Bank Street Park half court has been a huge hit with not only basketball enthusiasts but also, creatives. The unique location, purpose-built playing area, eye-catching court design and our very own adapted MegaSlam 72 hoop system makes it a very interesting and exciting space.
Installed by OnCourt, the court opened in June 2021 and originally, was only meant to be up for six months. With it being such a great success, Canary Wharf will keep the court open until at least the end of summer of 2022. It would be incredible to have more collaborations like this and see several pop-up half courts around the city.
Ravenscourt Park, West London
Arguably West London's finest outdoor basketball courts, Ravenscourt Park has a strong community of basketball players who compete throughout the day. The attractive park also makes it a great place for a family day out with a picnic. With the many hoops available, it won't be tough to find a court to play on.
The courts at Ravenscourt were one of the first in modern times to be refurbished and could now benefit from a little TLC. Despite this, the park remains a great London hotspot for hoops after work or at weekends.
Clapham Common, South London
Clapham Common, London SW4 0QZ
The launch of the newly refurbished Clapham Common basketball courts was an exciting event in November 2021. With an existing strong streetball community, the new 'Hoopsfix" courts at Clapham Common will be an awesome space to host summer events. The height adjustable Sureshot hoop systems mean that games, tournaments and events for younger players will now be accessible to that demographic.
As an attractive place to take the family for a picnic, expect Clapham Common to be a popular place to play during the spring and summer months.