How To Install A Basketball Court
Installing An OnCourt Basketball Court
Court surfaces are delivered in packs ready for simple self installation. Each court comes numbered, with a map for reference. A team of 2 people can install even the largest half court within a day. A few more helpful hands will make light work of this element of the court project.
DIY Hoop Systems And Court Components
Hoop systems and court components are straight forward to install with detailed instructions. Be aware however, that the systems are extremely heavy, so be sure to have 3-4 extra pairs of hands.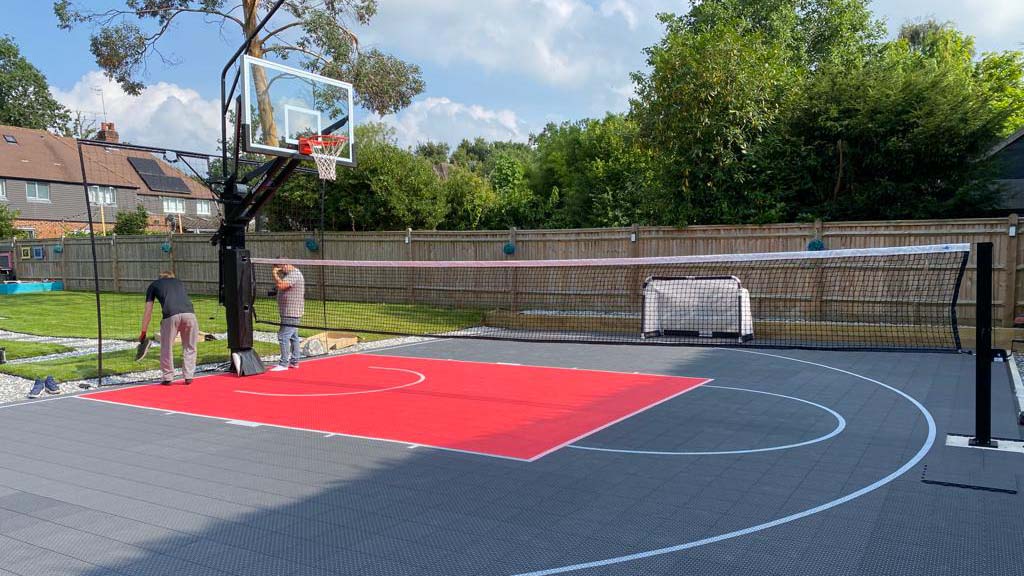 The OnCourt Installer Directory
Find an installation specialist who can handle every aspect of your project. Experienced groundworks experts can survey your proposed project site to identify the best type of court and components for your space. Once the sub-base construction is complete, an installer from the network can take care of the entire installation process and deliver a court that is ready to play on from the moment installation is complete.
Installing The Basketball Court Surface
Before you begin installing the court surface, review your packing slip and verify everything is included and has not been damaged in transit. Review the numbered court layout document and check your sub-base is ready for tile installation. Move the pallet close to the court, remove wrapping and you're ready to begin…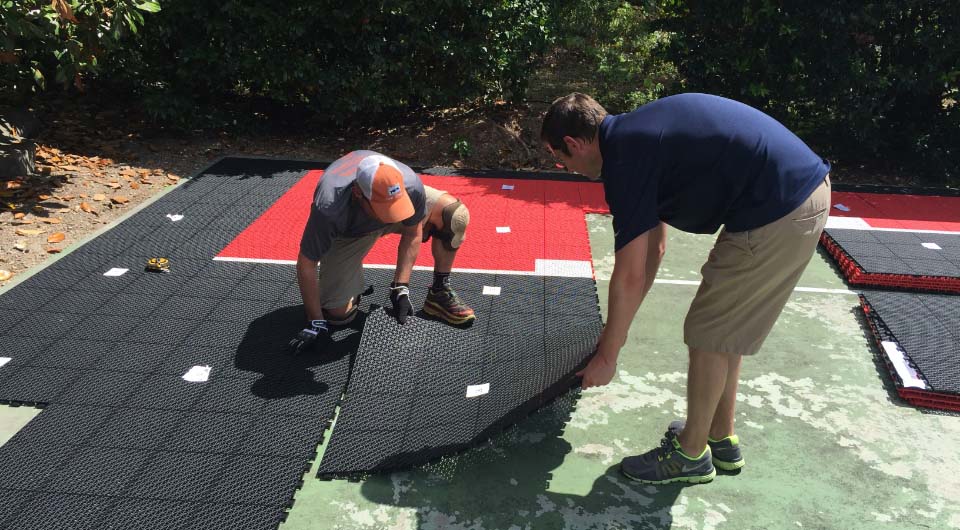 Step 1
The easiest way to install the tile surface is to start in one corner with the hook end of the tiles facing to the right and down; or in other words pointing towards the corner. Locate Panel #1 on your diagram and find panel #1 of your tiles and position into place.
Step 2
Locate Panel #2 and lay into place, continuing in numerical order moving across your diagram until all panels are in place.
Step 3
Step back and visually inspect to ensure your sections are in their proper place. Make sure the basketball lane lines up with your goal, as well with any tennis lines, logos and other lines matching your diagram, etc.
Step 4
Lock your tiles together. Starting with #1 and move across your court in the same order you laid the tiles down. By gently stepping on the seams, starting at one corner, the hook ends are pressed into the receiver end for a strong hold.
Step 5
Install your ramps and corner pieces. You will have 2 types of ramps, a hook and a receiver, and 4 corner pieces.
Remove all the numbered stickers and enjoy your new basketball court!
Installing Mega Slam Hoops
Mega Slam systems are straight forward to install and with the right tools and some helping hands, can be assembled in 1-2 hours. The system components are very heavy so without lifting equipment, you'll need 3-4 people to support you during installation.
Basketball Court Installation FAQ
Where can I find help to install my court?
Visit the OnCourt Installer Directory where you'll find an expert to assist with all aspects of your court installation.
Can court surfaces be self-installed/DIY?
OnCourt basketball court surfaces can be installed by anyone following simple instructions included in your delivery. Plug and play court surfaces are laid out following the diagram and clipped together with light pressure.
Related Basketball Court Articles