Mega Slam Hoops Baskboard Protection Plan
Mega Slam Backboards Are Tough But Accidents Do Happen
We've got your backboards covered with the Mega Slam Hoops No Break Backboard Protection Plan.
With the Mega Slam Hoops No-Break Backboard Protection® Plan, we will replace and ship one backboard free-of-charge no matter how it breaks* when you buy a Mega Slam Hoops basketball system from oncourt.online *Please read the details and restrictions below.
The MEGA SLAM HOOPS NO-BREAK BACKBOARD PROTECTION® PLAN (Protection Plan) coverage extends only to the Original Retail Purchaser and includes a one-time replacement of The Backboard (the "Product") shipped free to the mainland United Kingdom.
This applies for only residential usage applications of the following models: MegaSlam 72, MegaSlam 60
The Mega Slam Hoops No-Break Backboard Protection Plan® is extended only to the Original Retail Purchaser for residential usage applications if purchased directly from oncourt.online.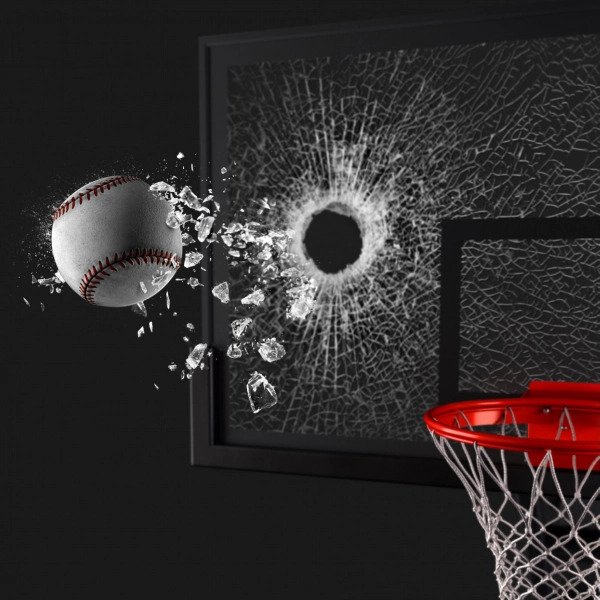 The Protection Plan is only valid with the submission of the original purchase receipt purchased from oncourt.online that specifically lists the No-Break Backboard Protection on the receipt.
The Protection Plan terminates if the original retail purchaser otherwise transfers or sells the product.
"Residential Use" is defined as an installation location for private use at a single residential home such as a private residential driveway, or private residential back garden court.
Mega Slam Hoops No-Break Backboard Protection® plan does not cover the following:
Dealer service charges, labour charges, or travel expenses. All labour costs, travel expenses, and other charges involved in the installation, inspection, service, or replacement of the Product.
Commercial use of the Product such as public parks, public common areas and other non-private installation locations.
Natural disasters such as a tornado.
Warranty Claims
Proof of purchase by the original Retail Purchaser is required for all warranty claims of the Protection Plan. This is needed to validate the original purchase was made directly from oncourt.online, occurred during the advertised offering of the Protection Plan, and was included as part of the purchase. OnCourt reserves the right to examine physical evidence or photographs of the Product, or component parts, claimed to be defective, and to recover said Product, prior to authorising a warranty claim.
This Warranty is made expressly in lieu of all other warranties, expressed or implied, including but not limited to any implied warranty merchantability or fitness for a particular purpose, and all other obligations on the part of OnCourt provided, however, that if the disclaimer of implied warranties is effective under applicable law, the duration of any implied warranties arising by operation of law shall be limited to one (1) year from the date of purchase or such longer period as may be required by applicable law.
OnCourt hereby disclaims any and all liability for consequential and incidental damages arising out of or in connection with any breach of this warranty or any other claim with respect to this product, including but not limited to, claims of negligence, strict liability in tort or breach of contract. some states do not allow (a) limitations on how long an implied warranty lasts or (b) the exclusion or limitation of incidental or consequential damages, so the above limitations or exclusions may not apply to you. this warranty gives you specific legal rights and you may have other rights which vary from state to state.
FOR THE ORIGINAL RETAIL PURCHASER TO SUBMIT A WARRANTY CLAIM FOR THE PROTECTION PLAN, CALL OR WRITE ONCOURT:
PHONE: 01962 809206
EMAIL: info@oncourt.online
MAILING ADDRESS
ONCOURT
THE HOLLIES
STATION ROAD
CHILBOLTON
HANTS SO20 6AL